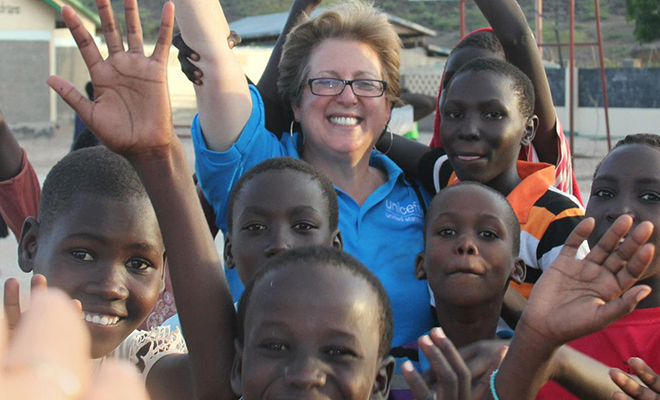 Caryl M. Stern
I'm very excited about speaking at the JCC biennial convention this coming May.  As the U.S. and Canadian JCC Movement celebrates 100 years of helping others—and as JCC leaders "network, share and schmooze" for four days in Baltimore—you will also help shape the future of our communities, particularly for children, both locally and globally.  Children, after all, are our collective future.  That's true whether we come from Maryland, Israel or Cambodia.  And, as we know, children are our most vulnerable community members.  But they also offer us the biggest opportunity to make the future better.
In New York City, where I live, Jewish community organizations have deep roots.  In the 19th century, caring for orphans—who were common back when adult life expectancies in the West were short—and helping Jewish immigrants, many of whom were refugees from Eastern European pogroms, helped define what it meant to be Jewish in the New World.  Motivated by a fierce commitment to tikkun olam—that concept from the Mishnah, of our responsibility to repair or perfect the world through acts of kindness—our Jewish forebears were determined to create a more humane society.
As the daughter of a woman who fled the Holocaust as a child and came to the United States without her mother or father, I've inherited a profound sense of the moral imperative to give back.  Because someone escorted my mother and her brother on the ship that brought them to this country, my mother believes even one person can make a difference.  I grew up in a home where that was a huge part of what we were taught as kids.
As the granddaughter of someone who served as his congregation's volunteer cantor, the mother of three sons and, now, a grandmother, maintaining a sense of Jewish identity and community—and incorporating the value of helping others into our own family life—have always been important to me.  My sons participated in JCC summer camps in Queens and, of course, belonged to our local synagogue, going to Hebrew school as children.  My family still organizes a community seder at a local gym for 50 or more people on the second day of Passover.
These same moral values motivate me professionally, too.  Before becoming the president and CEO of the U.S. Fund for UNICEF, I worked for the Anti-Defamation League and helped roll out an international project that dealt with inclusion and exclusion, anti-bias and bigotry.
Leading the U.S. Fund has expanded my sense of tikkun olam further.  Since 2007, when I came to the U.S. Fund, I've learned that children are children everywhere, and so are moms. We all want the same things for our kids. It doesn't matter what language you speak, what colors you wear, what faith you practice or what foods you eat.  When you sit down with a group of moms, you realize you share certain fundamental life experiences and understand each other.
Working at the U.S. Fund has also forced me to confront some harsh realities about the vulnerabilities of children worldwide.   For instance, UNICEF estimates that, globally, 16,000 children die every day, mostly from preventable or treatable causes. Every 10 minutes, somewhere in the world, an adolescent girl dies as a result of violence. An estimated 30 million children are on the run today, fleeing armed conflict, extreme poverty or both.   Nearly half of all deaths in children under age 5 are attributable to undernutrition. This translates into the unnecessary loss of about three million young lives a year.
These are just some of the facts that underlie our support of UNICEF's urgent work through fundraising, advocacy and public education. One of our newest campaigns, UNICEF Kid Power, which launched last October via a partnership with Star Wars: Force for Change and Target, directly targets global child malnutrition.  By getting active with the UNICEF Kid Power Band, American kids can go on missions to learn about new cultures and new places, earn points and unlock therapeutic food packets for severely malnourished children around the world.
But Kid Power is also designed to help our children understand what's at stake for their peers globally, especially for kids elsewhere who face daunting obstacles our children may not experience.  Kid Power is about creating a global, 21st century concept of tikkun olam, in other words.  It's also a great way for our children to enhance their own health and learn how to advocate on behalf of others.
What I've learned leading the U.S. Fund is that everyone has something to give, even if they can't contribute money.  Awareness—and taking action—are crucial, too.  Most of all, I want the U.S. Fund to inspire everyone to put children first—especially the tens of millions of children worldwide who confront poverty, disease, war, and natural disasters without the help and infrastructure most of us take for granted.  Our mission is that simple and that important.
Caryl M. Stern is president and CEO of the U.S. Fund for UNICEF. She will be the kickoff keynote speaker at JCCs of North America Biennial.