Camp Chi tackles the R-word with the help of TAG
When Camp Chi's staff was planning the upcoming summer last year, they wanted to take on something big: The R-word.
And to do so, they created a camp-wide project that used a unit of TAG: Daily Living Through a Jewish Lens™. M'shaneh Habriyot: Diversity in the World, served as a guide, but it was how the counselors understood the unit that made it work.
"Our camp community is not that diverse, just to look at it," says Jamie Lake, assistant director of Camp Chi, in Lake Delton, Wis., operated by JCCs of Chicago. Nonetheless, the camp partners with Keshet, an organization that provides support so that children with special needs can have a fully integrated camp experience. After the staff studied the TAG unit, Lake asked, "Now that you understand it, what do you want to do to build on it?'"
That question led staff to create a program based on the R-Word: Spread the Word to End the Word, to get campers to drop the use of the word "retarded." The camp crafted a pledge, based on one developed by the Special Olympics, and painted it on a large central wall in camp. The real learning took place on Shabbat. Each "village" at camp came together and was asked to think about name-calling. Campers received a piece of paper each, upon which they wrote an insult that had been directed at them in the past. Counselors collected the papers, handed them to others and had the campers then read them aloud.
"Some were extremely hesitant," says Lake. "These were words we tell them not to say."
The project also involved studying a related Jewish text, in a verbal way that "doesn't feel like school," Lake says. Campers created public service announcements and performed them in front the camp.

Kyle Kolling, a village leader, did the activity with 4th through 6th graders. He and his coworkers were unsure how the younger children at the 1,000-plus camper overnight camp would react. They didn't need to worry. Children were so engaged in the serious, hour-long program that they didn't even get through half of it in an hour and a half.
"We asked, 'Who here has been called a name they didn't like?' Every kid raised their hand; they all shared," says Kolling, 22, who has attended Camp Chi for 14 summers, and been on staff since 2010. "None of the kids laughed, it was mutual respect."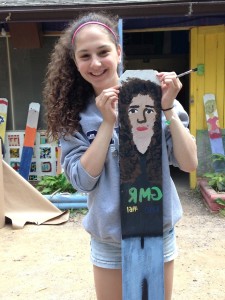 Kolling says that as the summer went on, more campers signed the pledge. More amazing was the fact that they held each other accountable. "They would say things like, 'You signed, you can't do that anymore, go apologize," he says, if they caught someone slipping. And campers apologized.
Shari Markowitz, 16, found the project very moving. She has several friends in the Keshet program, forged over her eight years in camp, and the program felt very personal to her.
"It does make people more careful about their language," she says. "Sometimes people don't' understand the repercussions of a word, and unfortunately they use the R-word for a lack of other words," she says. "This brought the idea of how hurtful this word can be to others, made them more aware of what they were saying and of their judgments and actions."
The project went through both sessions of camp. It was supplemented by a second one integrating the visual arts, in which each camper was given a fence post and asked to draw themselves on it. Each post was then installed on a very visible chain link fence, where future generations of campers will see it.
"You got to see how every camper saw themselves," says Kolling. "Who they thought they were, even what T-shirt they drew. Even though we are mostly Jews from around the same area –
Indiana, Illinois, Minnesota – they were all so different.
"It was a very cool thing."