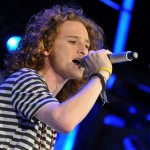 Brett Loewenstern, the JCC Maccabi ArtsFest alum who charmed audiences on this year's American Idol, is opening the Junior Maccabi Games in his hometown of Boca Raton this Sunday, May 15.  The Adolph & Rose Levis JCC is welcoming young athletes from the David Posnack JCC in Davie, the Michael Ann Russel JCC of North Miami Beach, and the JCC of Greater Orlando's several campuses.
Brett competed in several rounds of American Idol, impressing the judges with his soulful singing style and the audience with his empathic personality. The 16 year old took part in four JCC Maccabi ArtsFests, starting when he was 13.
Brett will sing the American and Israeli national anthems at the first-ever Florida Junior Maccabi Games for 10-12 year olds. After competitions in basketball, tennis, and soccer, the boys and girls will have a chance to relax and meet each other.