This summer, popular Israeli hip hop funk band Hadag Nahash will teach its trade to hundreds of North American teenagers who will be in Israel participating in JCC Maccabi ArtsFest. The band is famous for their tongue-in-cheek political commentary in songs such as "The Sticker Song." In these tunes, Hadag Nahash uses familiar Zionist slogans and bumper-sticker sayings to sing about current life in Israel.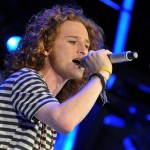 Another bright entertainment star and JCC Maccabi ArtsFest alum, Brett Loewenstern will appear at the opening ceremonies and will have a personal session with ArtsFest teens. Brett was a popular contestant in this season's American Idol, lasting until the final 24. The Florida teenager started in ArtsFest when he was 13 and participated for several years. He remains an enthusiastic supporter of the program."JCC Maccabi ArtsFest was the best summer of my life," he said. "I'm very excited to go to Israel and be in the Jewish homeland."Both these exciting events will be part of JCC Maccabi ArtsFest, a week long program that is bringing together aspiring North American teenage photographers, singers, broadcast journalists, dancers, chefs, actors, rock musicians, and visual artists to learn their chosen art with some of Israel's most skilled artists. The participants will be able to make lasting friendships, develop their skills, and build a deeper connection with Israel. Israel's active arts community made it easy to find top-notch talent to serve as artists in residence. Popular singer Rona Kenan is presenting a vocal music workshop.

 This summer's ArtsFest, the sixth annual, is the first to be held in Israel, which enables the participants to learn from and interact with some of the best Jewish and Israeli artists in a uniquely Jewish setting. The participants will stay with Israeli host families and celebrate Shabbat with their P2K communities, allowing both Americans and Israelis to learn about each others' lives. The teenage artists will also help rebuild parts of Kiryat Shemona, a town in the north of Israel, as their Days of Caring and Sharing project. JCC Maccabi ArtsFest is a project of JCC Association with its partners Maccabi World Union, Maccabi USA, and Maccabi Canada.

Although the location of this year's ArtsFest is Israel, the focus will remain on developing the teenagers' talents, waiting until the end to do some touring. Each day will include five to seven hours of workshops in each artist's chosen specialty. The capstone of ArtsFest, a performance on the last night, is often the participants' favorite part. Once JCC Maccabi ArtsFest has ended, the participants will spend three full days touring some of Israel's most famous sites.