Transforming the JCC-Israel experience
Rochelle Reich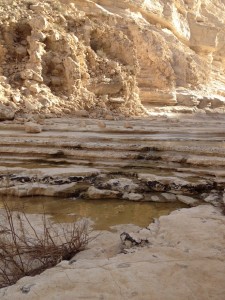 Recently, I had the amazing opportunity to join 20 other JCC professionals and lay leaders from across North America on a journey through Israel as part of the Israel Enhancement Program. This proved to be a personally and professionally transformative experience. I want to stress that I am not using the word transformative lightly, although I suspect that it will be years before I fully realize the magnitude of what I'm referring to now as my "Israel Awakening."
We would need an entire issue devoted to this topic for me to fully explore all the amazing and thought provoking intentionality that was packed into our experiential learning. The team at the JCC Israel Center outdid themselves! I've chosen my personal highlights to share with you. Get your passport ready. Here we go!
On Tu B'shvat, we were invited to participate in a joint seder with the Yerucham JCC in Israel and the staff from the Michael Ann Russell JCC in North Miami Beach. Even though this was only my second day in Israel, this was truly one of the most stirring experiences of the trip. We'd spent the first two days touching, smelling, and connecting with the physical land of Israel, and then there we were, celebrating the land and its gifts. On the "birthday of the trees," while IN Israel, I got to witness an inspiring community partnership in action. It was goose-bump worthy! It became clear to me, in that moment that pure gold is found in this kind of community partnership. My JCC doesn't currently have one and I left Yerucham that night knowing that getting our JCC partnered with one in Israel would be my first priority when I got home: professionally transformative.
My entire cohort agreed that our Shabbat dinner experience with Israeli soldiers at the Lone Soldier Center in Memory of Michael Levin was an equally emotional and meaningful Shabbat. Peering into the soldiers' personal narratives and learning what brought these young men and women to leave their homes in other countries to make aliyah and join the Israeli Army was inspiring. As a mom of two young boys, prior to this evening, I couldn't imagine being remotely OK with either of them telling me that they wanted to move to Israel. I would miss them far too much. (It's all about me, right?) Now, after my time in Israel and after connecting with these amazing young soldiers, my entire perspective is turned around. Yes, I would miss my children, but I know now that it's not just about me. I would be so proud of them deciding to put their connection to the Jewish people first: personally transformative.
Along our journey, we had many fabulous teachers, and I had what I'll refer to as several "moments of clarity." Our amazing tour leader spoke these words early on day three: "The conflict does not define us." Israel is so, so much more than what dominates the news. Yet because of the constant media work over, this is hard to remember. So for me, hearing it said aloud was my first "aha" moment. My second moment of clarity came after hearing Robbie Greenspan of Makom say, "Israel is complex, dynamic and sometimes disturbing." I let that sink in. Simple enough concept, right? After all, everything worthy of intelligent thought and emotion is likely complex, dynamic and sometimes disturbing. This brought clarity for me because it was simple, real, and honest, and it put the "struggle" into real perspective for me. Transformative.
I can't leave out that I had my first ever schwarma experience, immediately followed by an amazing walking tour through Tel Aviv: the most Jewish city in the world. I now believe that the whole premise of the JCC Movement is based on the concept of normative Judaism. This is the essence of Tel Aviv and JCCs are just like Tel Aviv. Now that is a connection that I bet you hadn't thought of!
So what's next in the transformation? For the Asheville community, our participation in the Israel Enhancement Program is very new, and we are in the early stages of developing our plan. With my influence, I hope this will include the creation of an Israeli community partnership along with programming that embraces all the complexities of this dynamic country that we sometimes struggle with. Long term, I hope to bring Ashevillians to Israel to forge permanent connections between our kehillah and Israel. I want everyone here to embark on his or her own individual and transformative experience.
Rochelle Reich is the community life and events director at Asheville Jewish Community Center in North Carolina.