A family that plays together stays together, and the Barry family is living proof of that. They have been "competing" in the JCC's annual Indoor Triathlon since 2008. This year they are returning with an even larger number of family members, seven in all.
The Barry clan stands out among the many athletes who participate in the Indoor Triathlon. They jump in the pool together, cheer one another on and generally have such a good time that it is infectious. Maureen Barry is the family's ringleader.  She lives in Manistee, Minnesota, but Indianapolis has always been a convenient place for the Barrys to gather because one brother and his family live here and another brother and their mom live in Cincinnati, Ohio.
We had to ask: Why the JCC Indoor Triathlon? Her answer was quite simple – her mom's birthday is January 30 and the family gathers for that celebration every year. The triathlon is well-timed with its late January date and Indianapolis is a convenient location. The whole idea of a triathlon sounded like fun, and one family member or another over the years has been in training for a walk, run or triathlon, so everything converged and the planets aligned and there you are – the Barrys arrive en masse each year at the JCC to swim, bike and run for 20 minutes in each sport.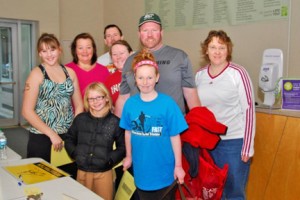 "Everyone is so friendly," Maureen offers, "and I love that there is always someone cheering you on with every lap you run or swim." The first year Maureen came out for the triathlon was just 2 months after her knee surgery. She was happy to walk for 20 minutes that year, but now she's able to run the segment comfortably. Brother Mike, a Fishers resident, is participating this year for the first time. His excitement is palpable. "I'm celebrating my one-year anniversary after having bariatric surgery," he exclaims. "Never in my life did I even dream of doing anything like this, but when my sister called I decided why not? I'll try it."
Mike's daughter Meghan and sister Maureen are using the Indoor Triathlon as part of their training for the Mini Marathon. Though each family member comes with his or her own story, and each for his or her own reason, they come together and they come every year to the JCC.
Photo (left to right): Front row: Lindsey Barry, Noelle Barry; Middle Row: Danielle Barry, Rachael Barry, Meghan Barry, Kevin Barry, Maureen Barry
Back row: Mike Barry