Creating a culture of safety at JCCs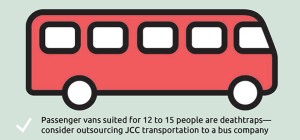 Michael Feinstein began as chief operating officer at the JCC of Greater Washington in April of 2006. It was his first time working at a JCC. He was still transitioning into his new position when less than three months later, the worst thing he could imagine happened.
A seven-year-old child drowned in the JCC's pool.
"It was bewildering that it could happen, there were so few kids in the pool," he says today, still deeply affected nearly a decade later by the incident. "It was all consuming for six months, trying to resolve the legal issues, working with the family, and looking at what we did, and if we did something wrong.
"It put safety at the top on my mind, right at the beginning of my career."
Today, Feinstein is the chief executive officer of the JCC. And he's part of a JCC Association task force that has been pushing to create a culture of safety throughout the JCC Movement.
In importance, he notes, creating a safe environment should be at the top of every JCC's list. And safety isn't to be confused with higher profile sibling, security. One incident such as a shooting or a bomb threat puts every JCC and its community on high alert, sparking conversations about turnstiles and security guards.
But a safety breach in one of the areas on which the task force has focused—aquatics, sexual abuse, transportation, and slips, trips and falls, as well as falling objects—can dog a JCC, damaging its reputation for years.


"If we say that we provide a welcoming and inclusive environment, part of that welcoming means being safe and secure," Feinstein says. "I can't think of only security. I could spend unlimited dollars trying to prevent that one awful security breach that may never end up happening. Yet if we don't put resources to making sure we are following best practices in safety, there is an even greater impact."
Feinstein, along with Myron Flagler, executive director of the Jewish Community Alliance of Jacksonville, Florida, and Jennifer Mamlet, the executive director of the JCC of Central New Jersey, headed the executive task force that first began looking at the issue of improving safety in 2013 at a meeting in Raleigh, N.C. This grew out of work with The Redwoods Group, a mission-aligned insurance broker that works extensively with JCCs and YMCAs. As an educational partner with JCC Association, Redwoods "helped to move safety up on our agenda," says Arnie Sohinki, JCC Association's senior vice president for program services.
"It's a matter of paying attention to details, creating protocols that result in best practices, and making sure someone owns this as part of their duties," he says.
Are there electrical cords running across a floor? Are bookshelves bolted to the walls? Are papers and books stacked on top of cabinets?
Sohinki tells the story of a camp director he supervised at a JCC who would come in with a 10-page list prior to camp's start that noted every crack in the sidewalk, a split board in a bench, anything that might fall. "I'd see her coming and think, 'Oh, no…' But realizing that whatever was on her list was important, and that we were going to have to make changes. She was so mindful of this. She paid attention. And we were probably safer for it."
And paying attention pays off. Whether it means trimming trees, changing the location of lifeguard stations, or outsourcing JCC transportation to a bus company, there are simple, basic things JCCs can focus on to avoid becoming a statistic.
The figures are sobering, says Sohinki. Some of the more eye-opening ones would make any organization pause and consider its practices. Drowning is the third leading cause of death for children under age 14, according to the World Health Organization, and a 2014 Centers for Disease Control and Prevention report notes that for children under age 5, this remains a leading cause of accidental death, with rates surpassing those of traffic accident fatalities. Redwoods cites that passenger vans suited for 12 to 15 people are deathtraps; and that 16,000 kids are hospitalized when struck by falling objects; one in four girls and one in six boys are sexually abused.
The task force looked at minute details: Are there electrical cords running across a floor? Are bookshelves bolted to the walls? Are papers and books stacked on top of cabinets? And it looked at larger issues: How do you train a staff to recognize signs of a predator? Do you outsource transportation if you cannot afford to replace a van known to be dangerous?
With so many children streaming through JCC programs—whether early childhood, camp, or other youth programming—it's imperative that staff be trained to recognize predators. "Background checks are part of it, but most predators will pass one," says the JCA's Flagler. "The checks give you a false sense of security.
"The JCA of Jacksonville, which he heads, requires every one in the agency to take and pass a video course on the topic so that they know the "tale-tell signs of a predator," he says.
Flagler is glad that safety is moving to the top of the movement's agenda. "It really reflects our values, that we care about people by making sure that when we do things that we do it with care rooted in our traditions," he says.
The task force took the ideas from the JCC Movement's Vision Statement of Principles very seriously that being welcoming and allowing participants to create "lives of meaning and purpose" could only happen if they were safe.
To that end, creating a culture of safety in a JCC is mission and values based; it is a shared responsibility between staff, lay leadership and the community; and it involves review and improvement.
"We really need to heighten awareness," says Flagler. "Every JCC is together on this. What happens at one reflects on all of us, so that we shine as being safe and secure."
This article originally appeared in the JCC Circle Summer 2015.