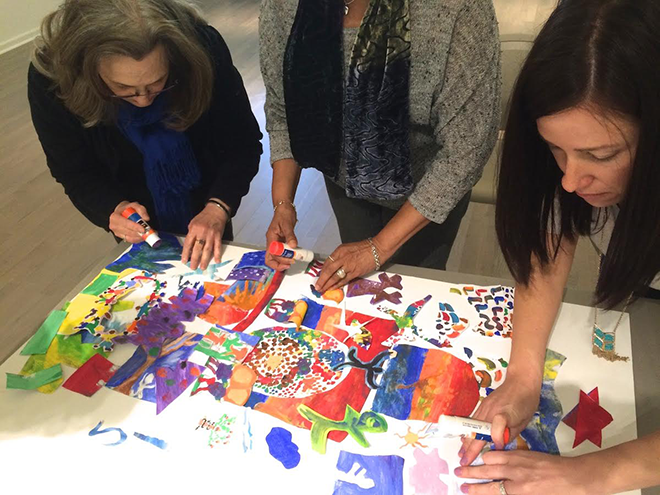 Baltimore artist to help create mural
Jay Wolf Schlossberg-Cohen grew up knowing that whatever he did in life, it needed to honor three things: his Jewish heritage, the power of the arts, and to make a difference in the world. And he does so, as an artist who engages communities in participatory workshop experiences to create murals that reflect their values, history and aspirations.
He'll be bringing this participatory style of creation to the JCCs of North America's Biennial in Baltimore, encouraging anyone participating in the three-day conference to express themselves through paint. The goal is to invite the larger JCC community to help create a mural that reflects JCCs, past, present and future in this effort generously supported by Board Chair Stephen P. Seiden and Centennial Chair Lisa Brill.
"It's like performance, you give up something, but you get back this collaboration that makes the project so much more interesting," says Schlossberg-Cohen about his style of community-based art.
"Think of the greatest jazz musicians. It's like me being Duke Ellington and my great composers are with me," says Schlossberg-Cohen, a Baltimore native who has worked many years with JCC Association and was an Artist in Residence at the first JCC Maccabi ArtsFest®. "It's my band, but I allow all these people to do their thing as well. That's what my collaborative paintings are like."
The process will include sessions in advance of the May 15 Biennial at the JCC of Greater Washington in Rockville, Maryland and with JCC Association staff in New York. During the workshop phase, participants will create imagery for cutouts that will be used in the final design which will be sketched out and assembled by Schlossberg-Cohen. At Biennial, everyone who wants to will have a chance to help paint the three panels that represent the past, present and future of JCCs using highly durable paint. "It will last over 100 years, so it will be around for the next centennial and the next 100 years," says Schlossberg-Cohen.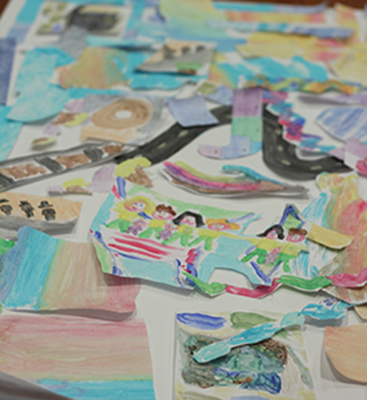 The artist was hand-picked for this centennial mural by Randy Ellen Lutterman, JCC Association's vice president of arts and culture, who has worked with him before. "Jay is uniquely gifted. He's the perfect blend of creative collaborator, and storytelling visionary. By working closely with our JCC community, I know he will build a gorgeous visual narrative that will speak to where we come from, and where we are going—together."
It's a process that Schlossberg-Cohen is very comfortable steering.
"I've done this with 20 people and I've done it with 1,000 people," says Schlossberg-Cohen, who has worked on community-based art projects in some of Baltimore's most impoverished neighborhoods. The first time he created in this fashion, he brought a wealth of process to the creative experience that he'd developed from years working in films and theater, including on such projections as "The Best Little Whorehouse in Texas," John Water's "Hairspray," and Barry Levinson's television show, "Homicide."
He grew up with a love of arts, which permeated his home. His father participated in community theater, and Schlossberg-Cohen recalls traveling with him by bus to get to rehearsals. His mother played the piano. He and his three siblings grew up with an urge for creative expression.
His work has appeared widely, and he has worked with several JCCs, including serving as the artistic director of the JCC of Baltimore's Arts and culture task force, and overseeing the JCC Grow Justice mural and garden at the Peninsula JCC in Foster City, California. Most famously a portrait that Schlossberg-Cohen painted of then-President Bill Clinton playing the saxophone hung in the White House for four years. Today it hangs in the Clinton Presidential Center and Park in Little Rock, Arkansas.
One of the most gratifying aspects of collaborative, community artwork is how it can transform lives, says. Schlossberg-Cohen. He likes to tell of a troubled girl participating in a school-based project he conducted near downtown Baltimore. The first year she was, according to the interns helping him, "disruptive and out of control, a nightmare."
The next year, she had improved. Sometime later, while working on another project in Baltimore, he ran into the girl's teacher, who told him that for the first time, the girl's mother came to the school to see her work. T?
"Her whole life changed, and she had been nearly written off in fourth grade," he says. "What more could I do as a Jew and a human being. Through the gift I've been given, I can make a difference.
"That's what I mean about transforming people and places."
And you can be part of that transformation, too, by collaborating with Schlossberg-Cohen at Biennial.