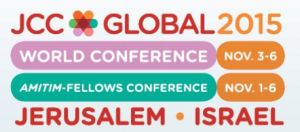 Connect with the worldwide Jewish community this autumn at the Ninth World Conference of JCC Global. The program runs Nov. 3-6 in Jerusalem, and in conjunction with the weeklong Amitim-Fellows-Global Jewish Leadership Network program, explores Jewish Peoplehood: From Vision to Action. Amitim is a three-year program designed to develop a group of worldwide Jewish leaders who will bring the idea of Jewish peoplehood to their communities and beyond. There are 26 JCCs from 12 countries participating in the program, with nine of those being in North America.
The JCC Global conference will include speakers who are leaders in their field, hands-on workshops, off-the-beaten-track encounters in Jerusalem, Amitim presentations and opportunities for global networking, peer learning and more.
The conference is open to JCC executive directors and presidents, senior staff and lay leaders, senior personnel of JCC networks and organizations that work with JCCs.
The land cost is $800 per person based on double occupancy and includes three nights at the four-star Hotel Yehuda in Jerusalem, three breakfasts, two lunches and dinners and transportation to and from all conference events.
All programs take place in English. For more information visit or to register for the conference visit www.jccglobal2015.com.