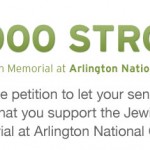 JCC Association is urging people all over the U.S. to contact their senators to approve the resolution to erect a memorial for fallen Jewish chaplains at Arlington National Cemetery. Using the JWB Jewish Chaplains Council Facebook page as a platform, JCC Association has created an easy way for thousands of people to send a message to their senators. "We hope to harness the power of social media to let the Senate know how important this is to Jewish Americans, and to all Americans," said Rabbi Harold Robinson, director of JWB Jewish Chaplains Council. "These heroic Americans deserve to be recognized for their sacrifice, just as others have been. We need to bring their names home to join our nation's other fallen chaplains."
Memorials for Roman Catholic chaplains and for Protestant chaplains who fell while on active duty have been standing on Chaplains Hill since the 1980s, but there is no memorial to the 13 Jewish chaplains who have died while serving. JWB Jewish Chaplains Council has led an effort to place a memorial on the site, raising the money and reaching out to many other organizations, including the Jewish Federations of North America, the Jewish War Veterans, and the Sons of the American Legion.
The memorial design was already approved when a change in administration at Arlington required that concurrent resolutions pass the U.S. Congress before the memorial could be placed. A resolution has already passed the House of Representatives, but still needs to clear the Senate. The resolutions were initiated by Congressman Anthony Wiener, D-NY, Congressman Jeff Miller, R-FL, and Senator Charles Schumer, D-NY.
The lack of a Jewish chaplains' memorial was noticed by Ken Kraetzer, a Westchester County, New York resident and member of the Sons of the American Legion, while he was researching chaplains from his alma mater, Providence College. He brought the issue to the attention of the Jewish War Veterans of America and JWB Jewish Chaplains Council.