Memorial Day weekend is the unofficial start of the outdoor cooking season. Whether you're tailgating, competing or just eating, people are passionate about their barbecue, and there's regional styles – and rivalry – galore. But generally you can divide your cooking into slow-cooked barbecue over indirect heat, or grilling and the accompanying char that goes with it.
For the past three years, the JCC of Southern Nevada has hosted an annual barbecue and cookoff that includes beans, brisket and ribs in its categories.
Last year's first place winner, Joe Woodward, wouldn't part with his award-winning recipe (he's planning on defending the title again this year), but he did offer some advice for those of you who want to kick off the summer fun with ribs and brisket.
"A little acid to help break down the meat is always a good idea, such as orange and lemon juice," Woodward notes. "I didn't use any salt for the marinade so as not to dry out the meat. I also used a beer in my marinade [it helps tenderize the meat]. The day of the event I got my coals ready and tried to maintain a 200-250 degree grill. I cooked the ribs for about five hours, then I wrapped in foil and cooked it another two hours. After that I removed them from the foil and grilled them for about 15 minutes on a higher temperature to char the meat a bit.
"I used a liquid in the foil to retain moisture. I used hickory chips for the first four hours to add a smoky flavor. I think the key for me in winning was to have a sweet and spicy array of spices in the rub and having a nice smoke flavor. I also used a sauce in the end."
To slow cook, you can set your grill up with indirect heat, pushing coals to the side.
To get you started, we're providing a basic spice rub that will go well on your meats, or try mixed into a burger.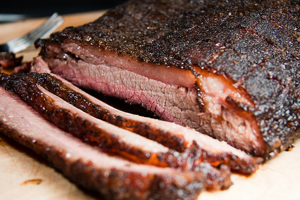 Basic Spice Rub
Yield: Makes about 1 cup
Ingredients:
1/4 cup coarse salt (kosher or sea)
2 tablespoons sweet paprika
1 tablespoon smoked paprika
2 tablespoons garlic powder
2 tablespoons dried thyme (preferably ground)
1 tablespoon freshly ground black pepper
1 tablespoon ground cumin
2 teaspoons cayenne pepper or hot paprika
Directions:
Combine ingredients in a small bowl and whisk to mix or place in a jar, cover it, and shake to mix. Store the rub in an airtight jar away from heat and light; it will keep for at least one year.
Nevada's winner inspired us with his beer-based marinade. Use on your meat the night before, or at least a few hours in advance. You can use to grill, or set up your grill to slow-cook over indirect heat. Whatever the case, pat your meat dry first to prevent flare-ups from the coals.
Beer-based Marinade
Ingredients:
1/2 cup olive oil
1 cup dark beer
1/4 cup lemon juice, orange juice or pomegranate juice
6 cloves garlic, smashed
1 1/2 teaspoons sea salt
1 teaspoon freshly ground black pepper
2 bay leaves
1 teaspoon dry mustard
1/2 teaspoon fresh oregano
4 sprigs of fresh thyme
Directions
Whisk together the oil and other liquids. Add the garlic, salt, pepper, bay leaves, mustard, basil, oregano, and thyme. Mix well.