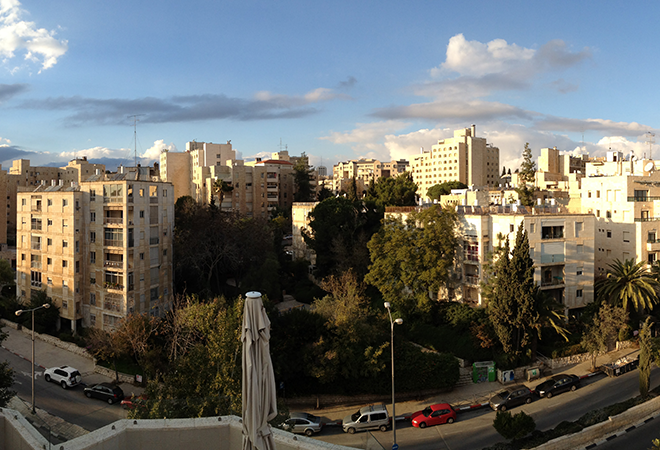 JCC Innovation Lab: Jerusalem first of its kind
Twenty-four JCCs will be taking part in JCC Association's first JCC Innovation Lab: Jerusalem in early November. As they explore "Technology, Talent, Tolerance and Tradition," and how innovators in Israel are grappling with such issues, they will spend their time reimagining how JCCs can reshape the Jewish communal conversation. This strategic visioning incubator will focus on what it means to be a JCC in the future as we seek to implement change and face the challenges ahead.
According to Leah Garber, JCC Association vice president and director of JCC Israel Center, Israel, and Jerusalem in particular, is known for its holiness, multifaceted traditions and layers of history, culture, as well as for the tension that accompanies complex political realities.
"Innovation Lab: Jerusalem is aiming to look into all these fascinating characteristics of Israel's capital and to understand why such an amazing ecosystem of creativity and innovation grew in this relatively small city of 800,000 residents," she says.
The city's creative thinkers are grappling with ways to balance the religious, social and political challenges of a populace that is 37 percent Arab and mostly of Muslim, and 33 percent haredi Jews, while still shaping Jerusalem as a one-of-a- kind, inspiring Jewish State, Garber says. In such a creative fulcrum, there are a great many ideas for JCCs to cultivate and adapt back home.
The 56 attending Innovation Lab: Jerusalem include JCC lay leaders, executive directors and a "rising star" from each participating JCC's staff, who might be someone who has demonstrated successful participation in JCC Association specialty tracks such as JELI, LEAP or Merrin Teen Fellows. The rising stars are attending through funding from the Lenny Rubin Staff Training in Israel Fund. As well, eight JCC Association board members will also attend, including the current Chair Stephen P. Seiden and Kara Bierman, the chair of the Israel committee.
The four days of the conference each address a theme and include speakers considered leaders and creative thinkers in their fields. Some of the speakers lined up to attend are Hanan Brand, founder and chairman of Made in JLM, a Jerusalem-based entrepreneur with a background in venture capital and private equity; Gilah Kahn-Hoffman, the liaison with Christian Communities and Institutions, a unit for development entrepreneurship in East Jerusalem; and Oded Barel Guy Cherni of Siftech Accelerator, a hands-on accelerator that leverages the power of the community to grow early-stage start-ups
Much of the learning takes place out and about in Jerusalem, including a panel discussion on innovation in film, art and music at the Bezalel Academy for Arts and Design; a visit to Azrieli College of Engineering: AtoBe Accelerator; and chevruta, or partner study, at BINA: Center for Jewish Identity and Hebrew Culture; as well as at other locations.
Innovation Lab: Jerusalem runs from Nov. 1-3 and 6-8. Some of those attending will participate in JCC Global's 9th World Conference of Jewish Community Centers, which convenes senior leadership of JCCs worldwide to address Jewish peoplehood and Jewish life today. Nine North American JCCs have Amitim Fellows participating in this program.
This will be JCC Association's first Innovation Lab, and it heralds more to come, as we seek new ways to shape a creative and engaging Jewish future together. Other Innovation Labs include the Executive Leadership Seminar (ELS), and the January meeting of the board of directors, and JCCs of North America Biennial in May.
"Through the Lab we hope to inspire participants to adapt Lab's presented ideas and adjust them to address their local JCC's vision and needs and to share a 'relevant Israel,'" says Garber, "one that can inspire Jewish community centers to connect and engage with the people of Israel beyond the country's history, tradition and collective Jewish values."