Former members of elite IDF units frustrated by toasting marshmallows while cohort called up to Operation Protective Edge
By Howard Blass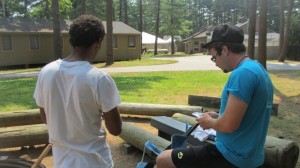 PALMER, Massachusetts — At Camp Ramah in New England this weekend, Israeli emissary Yakov described feeling very far away from what's happening in Israel while sitting in the idyllic Massachusetts forest surrounding his Jewish sleep-away summer camp. He spoke about a disconnect with his otherwise peaceful town of Nazareth Ilit as tires burn in the nearby Arab village where he usually eats "the best shawarma in all of Israel."
The camp's tennis teacher Maoz was discharged 16 months ago from his Special Forces unit. The Jerusalem resident told the Shabbat learning session's leaders he plans to return home if called, and added, "I am more worried about my brother who is still serving; we don't hear from him for weeks at a time."
It is especially poignant listening to Lior describe how hard it is for him being so far from his home and from his unit. The 23-year-old with curly black hair leads nature cooking classes each day for 9- through 16-year-old campers. He vaguely and discretely reported that he has served in "security services" for the past five years and is "still in the army."
"My friends are lined up near Gaza. And I am making sambussak, pitotand roasting marshmallows. It is insufferable," said Lior.
While he is committed to his service in the American Jewish summer camp, he has been in touch with his commander and is ready to return home, to action, as soon as he gets the call.
"I will pack my stuff, stop by the office to say goodbye and go right to the airport," said Lior.
And the situation on his yishuv in the Shomron, thirty minutes from Netanya, only makes his distance from home more difficult.
"The Arab villages nearby are exploding and threatening us," he said.
Lior feels blessed that the Wi-Fi connection from the nearby staff lounge extends to his fire pit and checks his iPhone nonstop.
Rotem Ad-Epsztein, an Israeli emissary of 13 years and the current head of Camp Ramah New England's Israeli delegation of 50, is very aware her fellow Israelis are constantly checking the news and What's App groups.
"When I was a shaliach and we went through similar situations, the delegation head checked the Internet daily and printed out updates. Now, they get the news in real time, all the time. It raises the anxiety level," said Ad-Epsztein.
Camp directors are well aware their Israeli staff's inner conflicts. When Ronni Saltzman Guttin heard about the increased missiles falling on Israel last week, she said she immediately thought of the eleven Israeli emissaries working with her at Camp JORI in Wakefield, Rhode Island.
She wondered: What would happen if they were called up and needed to go back to Israel to accompany their IDF units to Gaza? How could the camp community support these Israelis during this difficult time? And what would happen if she lost nearly ten percent of her staff?
According to Abby Knopp, vice president of Program and Strategy at the Foundation for Jewish Camp, more than 1,100 shlichim arrive with the Jewish Agency's support to more than 200 Jewish overnight and day camps every year.
"The shlichim are part of the fabric of Jewish camp across North America. They are an integral part of the community and the educational mission of each camp, enhancing the Israel and Jewish education that takes place," said Knopp.
Camp JORI's Guttin was the first camp director in the United States to contact Ariella Feldman, director of Shlihcut Services-North America at the Jewish Agency for Israel, but not the last. Feldman offered her sensible advice: Allow the Israelis time and space together; make sure they have time to call home, and make sure they have guidance for talking to campers and staff about the situation in Israel.
Feldman composed a detailed letter to camp directors that addressed emissaries' concerns. Some shlichim may have gotten calls for reserve duty and are unsure of what to do, wrote Feldman. She wrote she was told by the Jewish Agency's IDF liason that although the emissaries must inform their units of where they are, there is slight chance of anyone to be asked to return home.
"Our contacts in the army feel that they are better helping Israel by helping children understand what is happening than by coming back," said Feldman.
Feldman's letter suggested that "what the shlichim need more than anything right now is the feeling of support and understanding… They are filled with concern and guilt for what their families and friends are dealing with while they are 'enjoying' themselves."
Dan Lange, Associate Director of Camping for the Union of Reform Judaism said URJ camps currently have 219 emissaries on staff this summer.
"Our camps are working hard to ensure our shlichim have the space and resources they need to both stay in touch with family and friends in Israel and process what's going on," said Lange.
There are nearly 400 young Israelis working in Jewish Community Center day and overnight camps this summer. Since Israelis also come as shlichim through other non-JAFI channels, Jodi Sperling, the North American director of JCC Camps, suggested that the overall number of emissaries in North America is much larger than JAFI's 1,200.
Sperling composed her own letter to JCC camp directors. "In addition to feeling worry and anxiety about their families in Israel potentially under fire, they may also be feeling frustrated about not being part of what's going on there and not being drafted as their friends and army units are being called to serve. These feelings may intensify if they feel like camp is ignoring the conflict or their needs," she wrote.
She goes on to offer eleven suggestions ("provide time and space to be calling home; show solidarity by raising the flag, singing Hatikvah, saying a prayer; remind them they are not alone") to be implemented by camp directors.
However, despite the nonstop flow of news and the strong convictions of many soldiers to return home, JAFI's Feldman reported, "Many have called and asked for assistance but none have gone back yet."
This article originally appeared in the Times of Israel on July 15, 2014. Click here to read the original.