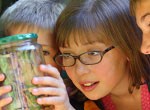 JCC day camps are giving thousands of children and teens rich Jewish experiences, and have the potential to do even more, according to a new study completed by the Florence G. Heller-JCC Association Research Center. Commissioned by the Mandel Center for Jewish Education and supported by the Harold Grinspoon Foundation, the groundbreaking study, titled "The Jewish Learning Presence in JCC Day Camps: The Current Reality and Realizing the Potential," found that JCC day camps were already offering programs on Jewish values and introducing campers and staff to the pleasures of Shabbat and Israeli culture, and could be even more powerful venues for informal Jewish education with proper staff training. The study's author, Professor Steven M. Cohen, said, "At a time when fewer Jews maintain friendships with other Jews, and when those friendships are critical for building and sustaining Jewish engagement, Jewish day camps bestow Jewish friendships … upon campers, and, maybe more importantly, the counselors, most of whom are in their teen years."
Staff development is key to enhancing the Judaic quality of JCC day camps, Dr. David Ackerman, director of JCC Association's Mandel Center for Jewish Education, believes.  "JCC day camps clearly are an important resource for the Jewish community.  However, staff training is necessary if they are to improve their ability to deliver meaningful Jewish experiences," Ackerman said. 
Co-authors Cohen and research associate Eitan Melchior looked at three constituent groups in their study: JCC day-camp directors, JCC day-camp staff, and parents of children at JCC day camp. In addition to surveys, they chose 11 day camps for closer examination, which included visits and focus groups. Altogether, 124 day camps were studied.
Although much research has been done on Jewish resident camps and their impact on Jewish identity, relatively little serious investigation has taken place of Jewish day camps, despite the much larger numbers of children attending annually. Philanthropist Harold Grinspoon said, "JCC day camps fill a fundamental need for the local community.  They provide a positive Jewish environment and serve as a launch pad for future attendance at overnight camps and engagement in Jewish life."
 The study found that 92 percent of JCC day camps run programs that emphasize Jewish values and 86 percent offer pre-Shabbat programming. The vast majority include Jewish songs and music in the day as well. Findings reveal that camp directors would devise and include more Jewish programming if they felt confident that their counselors, some of whom are non-Jews, were knowledgeable and comfortable with it. (A majority of counselors reported being less comfortable answering "Jewish" questions than questions of a general nature.) Specifically Jewish material, such as JCC Association's TAG: Jewish Values through JCC Camping® curricular units, which are already being used in JCC camps, and staff training would probably result in a deeper, more meaningful Jewish ambience at JCC day camp. 
Another recent study found that Jewish resident summer camps had a great influence on the future Jewish affiliations of campers and counselors. "There is huge unrealized potential for Jewish day camping to make a major contribution to the Jewish journey of not only the campers, but the thousands of young staff who spend their summers working there," said Allan Finkelstein, president of JCC Association.  "The JCC Movement is home to tens of thousands of young people and we're delighted to highlight this untapped source of Jewish energy."
"Jewish day camping offers a young child the opportunity to experience Jewish life in a non-pressured, non-academic setting," said Helaine Katz, associate executive director at the 92nd St. Y in New York City. "From three years on, a child learns that Jewish is not just something you are, it is something you want to be."
The study will be formally presented at the JCC Camp Leadership Forum, which is being held in conjunction with the American Camping Association's Tri-State Regional Conference in Atlantic City, New Jersey, on March 15.