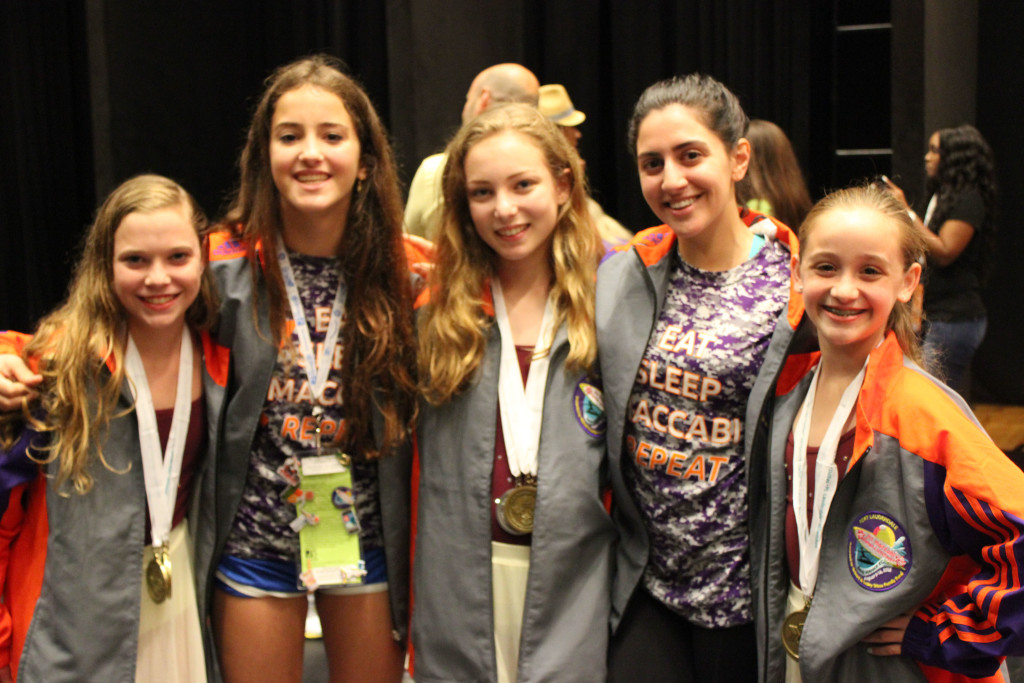 by Jonathan Fass
When Team Israel entered the arena at opening ceremonies for JCC Maccabi this summer, thousands rose to their feet in celebration. It was a powerful message of what JCC Maccabi, the world's largest summer program for Jewish teens can accomplish.
An intense, weeklong celebration of amiut Yehudit (Jewish Peoplehood), JCC Maccabi gathered more than 3,000 teens from across North America and around the world. We welcomed back this summer the delegations from Australia and Poland. Waving the Union Jack, 150 visiting spectators cheered Great Britain's delegation. The Mexican delegation entered the arena with their signature sombreros. The crowd grew silent at the memorial to Israeli athletes slain at the 1972 Olympics in Munich and cheered again when we lit the JCC Maccabi torch, opening the program for its 33rd year.
JCC Maccabi was hosted this summer by the Aaron Family JCC in Dallas, the David Posnack JCC in Fort Lauderdale, and the Harry and Rose Samson Family JCC in Milwaukee. In partnership with JCC Association, Maccabi World Union, Maccabi USA, and Maccabi Canada, its primary goal is to expand participants' understanding of what it means to be part of a global Jewish community with a connection to Israel at its center.
As our Jewish community has evolved, so has the program. Founded in 1982 as an athletics tournament styled after the Maccabiah Games held every four years in Israel, today JCC Maccabi includes JCC Maccabi ArtsFest, an opportunity for teen artists to participate in a weeklong program of master classes in one of nine arts specialties. At the ArtsFest Final Showcase in Fort Lauderdale, teens treated an audience of 700 to a visual, culinary, and performing arts exhibition that rivals any yearlong youth arts program.
Developed in 2013, the program's Midot Initiative encourages participants to exemplify the best of what JCC Maccabi can be by awarding a limited edition Midot Medal for one of six Jewish values. During their down time, JCC Hangtime creates a space for teens to unwind while sharing resources for Israel advocacy. To encourage service learning in the selfie generation, JCC Cares, athletes, artists, and their chaperones volunteer in the host community, and put into practice Judaism's responsibility for tikkun olam, or repairing the world.
The program's success lies in its ability to engage teens not for their interest in Jewish life, but their interests in the larger world. As teens speak about their experiences throughout the program, the consistent message is that they came to JCC Maccabi to win gold, deepen their artistic skills, travel, or fill their summer calendar. They leave with a stronger sense of pride in themselves, the Jewish people, and the state of Israel. Surprising in a world of shrinking global boundaries, the 2014 JCC Maccabi Jewish Impact Report indicated that more than 90 percent of participants valued that this program is designed exclusively for Jewish teens. The report also points to an increased interest in visiting Israel, participating in service learning, and joining other networks for Jewish teens, including youth groups after participation.
Although there has been greater emphasis in the past few years on the importance of Jewish experiential education, the Jewish community has often placed a higher value on programs that emphasize overt, formal avenues for Jewish learning. As such, the Jewish programs of the JCC Movement have often been criticized for being "Jewish light." While there's plenty to learn at JCC Maccabi, the program's strength rests in fostering meaningful avenues to capitalize on what teens will already do naturally – establish peer networks that help to shape their identity as emerging adults.
To ensure that the next generation emerges as engaged Jews, we have a responsibility to encourage the networks we wish our teens to cultivate. JCC Maccabi provides intentional, immersive, relevant, and transformative opportunities to help our teens foster a lifelong connection to the Jewish community, Jewish values, and to Israel, while having the time of their lives.
Jonathan Fass is vice president of JCC Association and director of JCC Maccabi and the Merrin Center for Teen Engagement. This piece appeared on Sept. 4, 2015 on eJewishPhilanthropy.com