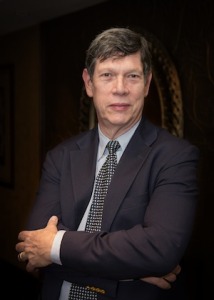 This month's guest writer is Steven M. Cohen, the research professor of Jewish Social Policy at HUC-JIR, and director of the Berman Jewish Policy Archive at NYU Wagner. He addressed the role JCCs can play in shaping American Jewish life at the 2012 JCCs of North America Biennial.
American Jewry is facing a significant, impending challenge to its size and character – and the JCC movement can play a major role in meeting that challenge. Here's the background:
In all the reactions to the Pew Research Center's Portrait of Jewish Americans, one critical observation has received scant attention: The coming shrinkage of what may be termed the "Jewish Middle," those located in the central region of the Jewish identity spectrum.
As a group, on average, those who call themselves Conservative, Reconstructionist or Reform are more active and committed than those call themselves "partially Jewish" or "Jewish and something else," "Just Jewish," or atheist, or agnostic, or no-religion Jews (not to be confused with secular Jews).
The drop in the number of Jews in the middle of the identity spectrum is visible today only among children and young adults. But, in coming decades, the adverse impact of the small number of children in their households will become increasingly visible, clear and apparent. Put simply, the number of middle-aged, non-Orthodox Jews who are engaged in Jewish life is poised to drop sharply in the next 20 to 40 years. And, absent significant policy changes, their numbers will continue to drop for years to come.
A large Jewish middle is vital to the sustenance of so many major institutions in Jewish life. Not only do most engaged non-Orthodox Jewish feel that being Jewish is very important to them, but they also manifest their commitment in behavior that benefits the institutions they populate and support by affiliating with them.
Clearly, Conservative and Reform synagogues depend heavily upon these moderately to highly-affiliating Jews. So too, do Jewish federations, JCCs, and numerous other Jewish organizations. Jews of the middle patronize Jewish cultural events, museums, periodicals and publications. They are the mainstays of a vast Jewish educational enterprise on behalf of their children. In this regard, Jewish day and overnight camps, youth groups, Israel trips, Jewish Studies programs, and day schools all immediately come to mind. All these features of contemporary Jewish life – and more – depend upon hundreds of thousands of Jews who, while not Orthodox, nevertheless display high rates of Jewish engagement however measured.
The effects of a declining number of engaged, non-Orthodox Jews are already palpable. The American Jewish Congress is virtually no more. Hadassah, B'nai B'rith and other venerable organizations have been experiencing plunging membership for years. Several other domains of decline include the number of donors to Jewish federations; Conservative synagogue members; Reform temple members; youth group participants; and day school enrollments outside of Orthodoxy. Whether JCCs have also been affected remains to be seen – but JCCs are still the BIGGEST movement in Jewish life today!
One big reason for the projection of a falling population size is the low fertility rate – about 1.7 children for non-Orthodox Jews. A stable population requires a birthrate of 2.1.
But not all of the 1.7 children born to Jewish parents are raised as Jews, or – more critically – grow up to identify as Jews. From the Pew study we learn that among today's adults with just one parent who was Jewish (the offspring of the intermarried), just 43 percent currently identify as Jews. Of the 7.2 million adults who had one or two Jewish parents, 5.1 million identify as Jews, but 2.1 million of them, about 29 percent, do not.
Of recently marrying non-Orthodox Jews, 72 percent intermarried, that is, married non-Jews who had not become Jewish. (The figure is much lower for Conservative Jews and somewhat higher for those raised Reform – about 80 percent!) A large number of intermarried couples tend to raise their children as non-Jews. Hence, the actual average number of children who are Jewish among the non-Orthodox population falls below 1.7.
Not only do intermarried couples produce fewer Jewish children. They also provide the youngsters with far weaker Jewish socialization and educational experiences than do in-married Jews. As compared with in-married couples, intermarried ones exhibit far lower rates of holiday celebration, ritual observance, institutional affiliation, and informal ties with other Jews (friends, neighbors, co-workers, etc.). Their children experience less formal and less intensive Jewish schooling, and less frequent informal Jewish education experiences (day camp, overnight camp, youth groups, and Israel travel.)
In light of all these past, current, and impending changes, what is to be done? The objective of any Jewish communal policy in this realm needs to include influencing the demographic behavior of American Jews. We can, indeed, influence (not determine, but influence) the timing of marriage, the likelihood of Jews marrying Jews, and, ultimately, the number of Jewish children born to both in-married and intermarried couples.
In fact, JCCs have already been exerting such effects, as is evident from the years of research pointing to the most effective policy instruments of American Jewry. They share three critical features:
They create social networks that enhance interactions among Jews centering on matters of Jewish interest.
They target individuals in the same stages of life, enabling them to heighten their involvement in Jewish life along with their peers.
They communicate Jewish content by exposing learners to sacred texts and the cultural heritage of the Jewish people.
JCCs – through their day camps, overnight camps, youth activities, young adult programs, Jewish educational programs, film festivals, cultural programming, the relationships they create with young families and so much more – certainly bring Jews together, creating and reinforcing Jewish social networks. They often do so with an explicit attention to Jewish content and meaning (although more can be done in this realm). And they tend to target specific age cohorts.
JCC leadership needs to assume a greater awareness of the value that JCCs bring to the Jewish community and population – and to make the appropriate case to policy makers and potential supporters, both locally and on a continental basis.