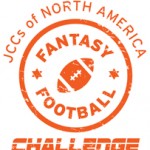 It looks like the NFL may be bogged down in a labor dispute for just a little longer, but we're launching a fabulous new initiative—a JCCs of North America Fantasy Football League. Registration opened today, and participation is limited to the first thousand registrants, so don't delay.
Participants will compete locally through JCCs and on the continental level by drafting NFL players for their "imaginary" teams.  We are partnering with ESPN.com and ESPN.com fantasy expert analyst Matthew Berry (the "Talented Mr. Roto"), who is the honorary commissioner of the Challenge.  Grand Prizes and Weekly Prizes are being provided by The Coca-Cola Company's partners Disney, Southwest Airlines, Six Flags and American Airlines, as well as the Peabody Hotel. Get information right now on Facebook or follow us on Twitter @JCCsFanSports. Just click the FB Like button and you'll get updates on registration, prizes, and more.
Even if you don't belong to one of the 46 JCCs taking part, you can register and play. You'll be assigned to a JCC team. Only caveat is that you need to be over 18. Don't wait; register now.