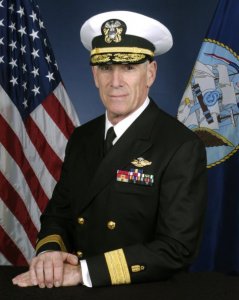 Marla Cohen
When Harold Robinson, JWB Jewish Chaplains Council director, becomes chair of the National Conference on Ministry to the Armed Forces, he will be the first rabbi to serve as head of the organization.
Robinson, a retired rear admiral, will assume the two-year position at NCMAF, an organization that represents more than 220 religious denominations. He will begin his term during the NCMAF conference that begins in January, and will be the first Jew to serve as the head of the organization.
"NCMAF is one of the very few places where Americans gather across religious boundaries for the betterment of all and in service to the young men and women who risk so much for this country," says Robinson. "I am deeply humbled by the extraordinary responsibility and trust placed upon me by my college in ministry to the armed forces."
Robinson has represented JWB to NCMAF since 2007 and has served on the executive committee since 2009. The organization plays an influential role in shaping military chaplaincy, he says, and in fostering understanding among the chaplains of different faiths. "That way, they are better able to serve our people in places where our chaplains are not present," he says.
Robinson is well respected among his peers at NCMAF and well suited to lead the organization, according to his predecessor in the position, Keith Travis, the retired team leader of chaplaincy and the North American Board of the Southern Baptist Convention.
According to David Posner, JCC Association vice president for JWB Jewish Chaplains Council, Robinson has accomplished much for JWB, including increased recruitment of rabbis to serve in military chaplaincy; Torahs for Our Troops, which provides small, portable Torahs to front-line situations; successfully advocated for availability of kosher food aboard naval ships; and the placement in Arlington National Cemetery of a permanent memorial to the 14 Jewish chaplains who died while in service to their country.
"He is a fierce advocate for military chaplaincy and the spiritual needs of military personnel, and he will continue that role as NCMAF president on behalf of all faiths," Posner says.
"He's respected by the people," says Travis. "They know that Harold is a rabbi, of course, but they know that he will listen to the Southern Baptist guy, the Methodist, and the Unitarian."
He is a fierce advocate for military chaplaincy and the spiritual needs of military personnel, and he will continue that role as NCMAF president on behalf of all faiths.
For an organization that values its goal of serving the military as a higher purpose, while catering to a multitude of faiths, this is important, Travis says. "You don't really leave your faith at the door," he says. "You carry it at all times. But you have to be respectful. We may not agree theologically, but we do have mutual respect and our real purpose and goal is to serve the military."
Since 2005, Robinson has served as the director of JWB Jewish Chaplains Council, a program of JCC Association that provides support and advocacy for Jewish men and women serving in the United States military, Veterans Administration and to their families.
Robinson was ordained as a rabbi from Hebrew Union College-Jewish Institute of Religion in 1974 and commissioned as a Navy chaplain in 1975. Overseas assignments have included Italy, Scotland, Iceland, Japan, Guam, Bahrain, and Djibouti. He has visited forces in Iraq, Afghanistan, Qatar and Kuwait. In 2003, he was selected as admiral and assigned as Deputy Chief of Chaplains for Reserve Matters and Director of Religious Programs, Marine Force Reserve. He has received the Distinguished Service Medal, the Legion of Merit, the Meritorious Service Medal, the Naval Commendation Medal with two Gold Stars, and the Navy and Marine Corps Overseas Deployment Ribbon.
NCMAF began in 1982 as a private organization, but its roots go back to 1901 when the United States War Department decided to require ecclesiastical endorsement for clergy who serve as chaplains in the armed forces. Likewise, JWB's origins go back nearly a century, when it became the official, and at the time, only endorser of rabbis seeking to serve Jewish soldiers serving in the U.S. military during World War I.
"Harold is a dynamic leader, very insightful and he has the unique ability to get things done without drawing attention to himself or for taking the credit," says John H. Lea, a retired Navy captain who is NCMAF's executive director and has known Robinson for 20 years. "But everyone knows that whatever organization he is serving is better because of his service."