The Kansas City JCC held its third annual fundraiser, KC SuperStar, in August, and Erick Patrick from Olathe, Kansas was chosen as the 2012 winner. Ten finalists performed before a panel of judges, which narrowed the field to the top three. Audience members then selected the winner, just like on "American Idol" and other reality shows. Any high school singer in the Kansas City metro area was eligible to participate, and more than 200 students from 71 high schools registered to audition.
Erick was awarded the Brooke Tivol McGrath scholarship in the amount of $7,500,. Samantha Smith from Overland Park, Kansas was awarded at $2,500 scholarship for second place, and Jessica Earley, from Kansas City, Missouri won a $1,000 scholarship prize for third place. The scholarship funds were donated by Mark and Cathy Maslan. Each of the finalists received a $250 scholarship for their participation. These scholarships were underwritten by the Caviar Family and Liberty Fruit.
Sponsored by Wells Fargo Advisors, KC Superstar is the JCC's biggest fundraising event and 2012 was its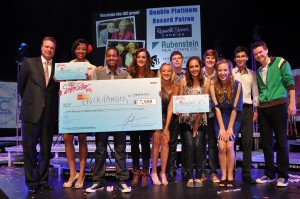 most successful year. The event was sold out at 1500 audience members and grossed $640,000. This year's honoree, KU Head Basketball Coach Bill Self, was introduced by NBA and NFL broadcaster Kevin Harlan. Proceeds from the fundraiser underwrite over $300,000 in JCC scholarships.
JCC Association Board Member Trudy Jacobson, Herb Buchbinder and Donna Thalblum co-chaired SuperStar, which was conceived by KCJCC President and CEO Jacob Schreiber.