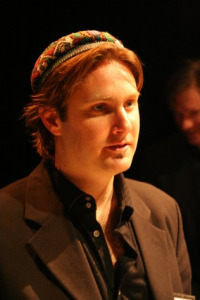 Stephen Hazan Arnoff assesses the new gig
He's been on the job since mid-February and Stephen Hazan Arnoff, JCC Association's new CEO and president, is impressed.
"It's exhilarating to be in conversations with executives, staff and lay leaders from all over the country," he says from his office overlooking Eighth Avenue and 36th Street. "There's so much good work happening out there, so many possibilities."
And so much to learn. Like what so far?
"We have an amazing history. Woody Guthrie sang 'Tom Joad' at a JWB event in 1943. Now wouldn't it be great if we could get Bruce Springsteen to sing, 'The Ghost of Tom Joad,' at a JCC Association gig?" he says.
"It's been incredible hearing the scope of what JCCs offer across the continent today, connecting people, programming and ideas. We are the Jewish conversation in all of its diversity and opportunity."
In January, before he was officially on board, he met with JCC Association's board of directors at its biennial retreat and with executives from JCCs who attended the Executive Leadership Seminar. Both provided excellent opportunities for getting a sense of what needs to be done in the coming months, he says.
And much of that will be listening.
"To the interests, the concerns, the aspirations of the people who populate this movement," says Hazan Arnoff. "Among my priorities is thinking about how we at JCC Association can best integrate what we learn from the field into our vision, and then continue the process of ensuring that we are aligned as a thought leader, in best practices and engagement for the community and at the highest level."
Connecting with key stakeholders at the two leadership events enabled him to "really dive into the conversation about what we're about" and left him feeling energized and excited about the work to come.
It's very important for me to see JCCs in full color.
"It was enlightening, it was inspiring, informative and clearly we have tremendous range of talent and opportunities to work with."
Hazan Arnoff 's first weeks in the office have allowed him to "get to know the staff and start charting a course." He is looking forward to visiting JCCs throughout the country to get a sense of what they do best, and how they go about doing it.
Hazan Arnoff, 45, was named successor to Allan Finkelstein, who retired after leading JCC Association for more than two decades, subsequent to a unanimous board vote in early January. Hazan Arnoff formerly led the 14th Street Y in lower Manhattan, serving as executive director from 2007 through 2013. He is credited with expanding the organization's innovative programming, including the creation of LABA: A Laboratory of Jewish Culture. His JCC connections extend deeper, as he also was a member of the senior leadership team at the Makor Steinhardt Center of 92Y, also in New York.
Prior to being named head of JCC Association, Hazan Arnoff was the director of the Office of Culture, Community, and Society at Shalem College in Jerusalem, where he was responsible for shaping the cultural life of the campus, as well as for creating both internal and external collaborations. He lives in Jerusalem, with his wife, Basmat – a teacher, writer and theater director – and their four children. He will be based in JCC Association's New York City office, but will also maintain one in Jerusalem.
He graduated magna cum laude from Brandeis University and received his doctorate in Midrash and Scriptural Interpretation from the Jewish Theological Seminary of America. A Wexner Graduate Fellow and a Mandel Jerusalem Fellow, Hazan Arnoff was also a Revson Fellow at JTS. Prior to his Jewish professional career, he spent nearly a decade as a professional musician performing and recording solo and in bands. He has written extensively about art, religion, music and Jewish life, contributing chapters to books on such cultural icons as Bruce Springsteen and Bob Dylan. He also served as managing editor of Zeek: A Jewish Journal of Thought and Culture.
In the upcoming weeks and months, Hazan Arnoff is particularly interested in hearing firsthand from JCCs.
"It's very important for me to see JCCs in full color, how different JCCs manage, do their work and tell their story," he said, noting that he would be visiting many in his first year. "It will allow me to be wiser in leading and in making decisions about the next steps for JCC Association and as a voice of and for the JCC Movement as a whole."