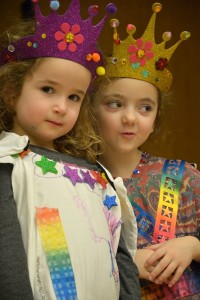 Masks. Merrymaking. Costumes. Drinking. Spoofs. Just when you need it most, in the dreariest part of the year comes Purim, one of our most festive holidays. The celebration started last night at sundown, on the Hebrew day of the 13th of Adar, and continues through this evening.
Last night and this morning, we read Megillat Esther, the story of Queen Esther, who saved her people from imminent destruction. In addition to including a beautiful and noble queen, the cast of characters includes the foolish, partying King Ahashveros, the evil advisor Haman, and the wise hero Mordechai, Esther's uncle. Stomp hard to blot out the name of Haman and his wicked deeds, and drink until you cannot distinguish the name of the hero from the villain.
What's even better is that you can send us your Purim photos. We want to see how JCCs celebrate Purim in all their variety. Send them to us, and we'll post our favorites on jccassociation.org.