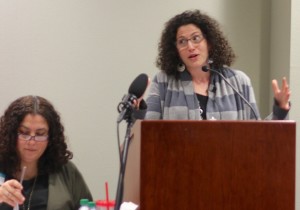 When Randi Benesch was hired by the JCC of Greater Baltimore in 2012 to serve as director of arts and culture for the JCC and managing director of the Gordon Center for Performing Arts, her mission was to revitalize arts programming at the JCC. The 550-seat theater built two decades ago, had started with a big splash, offering new and creative productions in the performing arts. But in recent years, the program had been shrinking. The JCC's board of directors, however, was committed to reinvigorating arts opportunities for all ages. Benesch was hired to create a new vision, bringing her full circle, back to the JCC where she had attended nursery school.
Her talk, "Making a Case for Arts at the JCC," at JCC Association's annual Arts & Culture Gathering on Jan. 19 focused on how she has made creating community partnerships and bringing all the arts at the J under one banner to build a stronger program a priority.
I had never worked for a Jewish organization before. I had worked at a variety of arts organizations including Centerstage and the Kennedy Center for the Performing Arts, and as a consultant working with local non-profits on board development and fundraising when I heard about the position. I'd always had my eye on the Gordon; it's an incredible facility and we are so lucky to have it at the JCC, but I always thought we could do so much more for the arts, not just on the campus, but in the community.
We aren't serving the whole community when we focus only on fitness, or sports or early childhood programs. When I first arrived in 2012, our JCC took 100 kids to the JCC Maccabi Games, and only five to ArtsFest. I know there are so many other Jewish teens in our community that are passionate about the arts. When I was young growing up in this same community, I was jealous of the Maccabi Sports kids. I was determined to figure out ways to grow the arts opportunities for Jewish teens.
So while the arts are not a moneymaker, they add tremendous value and drive revenue and traffic in other ways. The arts programs bring thousands of people onto the campus who would not otherwise come here. For example, we had one child enrolled in our new performing arts camp. His parents were so taken with the Gordon Center facility that the father told his company and now the company is renting the facility for an event. I gave them a tour, and now we're talking about membership deals for the employees. You have to think beyond just the money brought in by putting people in the seats.
It wasn't difficult to get outside arts organizations interested. They clearly want to reach the Jewish community as much as we want to encourage their audiences to think of the JCC as a place to connect with. By broadening our programs and taking them outside the JCC, we get ready-made programming we can co-brand. We did our first program with the Baltimore Symphony when they were going to be performing Leonard Bernstein's "Kaddish," so we invited the head of the symphony and a local hazzan (cantor) to hold a discussion about Bernstein and the piece of music in advance; more than 200 people came for this intimate, behind-the-scenes experience. They were able to purchase discounted tickets to the concert and it was a win-win for both the JCC and the symphony. It gave us an exciting program that I didn't have to do all that much planning for.
Since then we've collaborated numerous times with the Baltimore symphony. They have a very popular music program for babies on Saturdays that sells out and there was no way of adding more dates. But we've expanded the program on Sundays at the JCC, so it gives them a chance to meet a bigger audience, and now the Orthodox can experience this engaging arts program for children, as well. We also use their teaching artists in our arts camp.
Similarly, we partnered with a very popular community dance program that was bursting at the seams. Now we offer their program at our campus and we both co-market the program.
Of course, before I came the JCC was doing arts and culture programming. There were various performances in the Gordon, arts classes in the children's department, in camping, and for adults. But there was no cohesiveness or shared vision. The adult department merged with the Gordon Center department to create a unified arts and culture department that now provides engaging and high-quality arts presentations, classes, and workshops for all ages.
Randi Benesch is director of arts and culture for the JCC of Greater Baltimore and managing director of the Gordon Center for Performing Arts