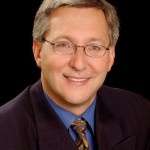 Longtime member of the JCC Association Board of Directors Ian Sherman has been honored by the Jewish Federation of Ottawa with its highest accolade, the Gilbert Greenberg Distinguished Service Award. This award is presented for many years of devoted communal service.
Sherman has served on the JCC Association board since 2000, but his connection to the JCC Movement predates that by decades. He and his sisters went to the Solway JCC in Ottawa since childhood.  "That's when JCC life became so engrained to me," he says. An avid hockey fan, Sherman has coached his children's teams, and his family holds season tickets to the Ottawa Senators games.
"It's very important for all of us to contribute as best we can to the fabric of Jewish life," Sherman said in a previous interview.