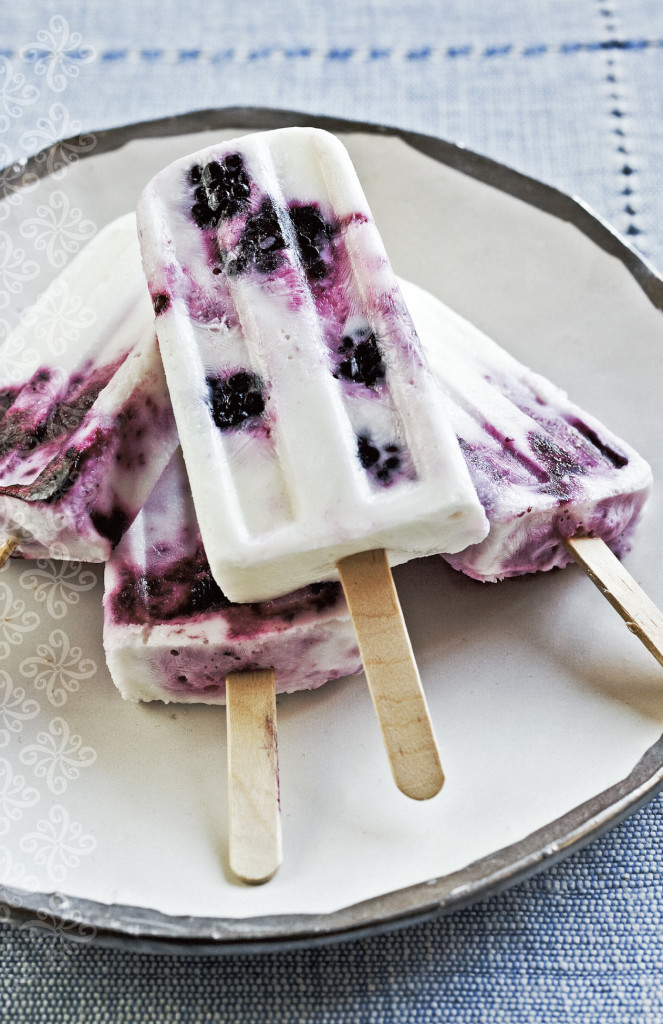 Mexico City native Fany Gerson, may have graduated from the Culinary Institute of America and worked at Michelin-starred restaurants, but she found her passion creating and writing about the sweets of her native country. Her first cookbook, My Sweet Mexico, focused on an array of delicious and exotic confections such as fritters filled with mescal-flavored meringue and jamoncillo de leche, or milk fudge. Her second book, Paletas: Authentic Recipes for Mexican Ice Pops, Shaved Ice & Aguas Frescas, gives us the perfect way to indulge our sweet tooth as we head into the hot summer months. If you're visiting New York City, check out Dough, where Gerson sells artisanal doughnuts, or La Newyorkina, her ice cream and sweet shop.
Fany shared a little of her background and what has provided inspiration for her with us, as well as some paleta recipes.
Are there any similarities between Jewish and Mexican approaches to food?
FG: I think Jewish and Mexican cultures are very family oriented and that is one of the aspects I like the most. Food brings people together and traditions are kept alive not only by the continuation of the food preparations, but also by the rituals around the preparations and festivities.
Do you have a favorite Jewish food you grew up eating?
FG: Yes, my grandmother made the best gefilte fish, Mexican-style. The fish balls are pan-fried and served warm with a sweet and sour tomato sauce that is a bit spicy from lots of white pepper. I now make my own version inspired by that one.
What inspired you to focus on Mexican sweets in general, and paletas in particular, for your cookbooks?
FG: I was looking for books about Mexican sweets and pastries and realized there weren't many and after a while I thought to myself that perhaps I was meant to write it. It was a long process, and certainly challenging, to find someone who believed in the idea so much to want to publish it; especially because I hadn't written anything prior to that, not even a blog or a quote. I didn't have my business yet or any credentials they usually require. I simply had a deep passion, curiosity and strong belief it needed to be written. That book was My Sweet Mexico.
The paletas book came after I had started my company, La Newyorkina, which focuses mainly on them. It was my editor's idea, and so fun to write!
The Centro Deportivo Israelita, or Jewish Community Center of Mexico City, plays an important role in Jewish life there. Did you and your family have any connection to it when you growing up?
FG: Yes, my grandfather, Pedro Gerson, was very involved, and there is an art gallery there named after him. My father was also very involved in it, and my sister and I used to take swimming and other lessons there. I remember going there when my brother was a baby to give him sunbaths and my sister and I would play for hours in the garden and pool.
You attended a Jewish overnight camp in New York, what was the best thing about going?
FG: Camp was the best!!! Mexico City is amazing but we didn't have a lot of green spaces to roam around and being at camp felt so freeing. Everything was an adventure. I didn't speak English before I went and mainly I loved all the outdoor activities and the daily camp life of all the activities and bonding that occur.
Paletas De Yogurt Con Moras
Yogurt Ice Pops With Berries
MAKES 8 TO 10
1 lemon
1/2 cup water
1/2 cup sugar
11/2 cups plain unsweetened Greek-style yogurt
2 tablespoons honey
2 cups fresh blackberries, or the berry of your choice
Rinse the lemon, then peel it. (This recipe uses only the peel, so save the lemon for a different use.) Combine the water and sugar in a small saucepan. Cook over medium-high heat, stirring, until the mixture comes to a boil and the sugar has dissolved. Add the lemon peel, lower the heat, and simmer for 5 minutes. Let cool to room temperature. Strain the syrup through a fine-mesh sieve, then refrigerate until chilled.
Add the yogurt and honey to the chilled syrup and stir until thoroughly combined. Put a bit of the yogurt mixture into each of the molds, to a height of about 3/4 inch. Freeze until the mixture begins to set, about 40 minutes.
If the blackberries are big, cut them in half. Divide the blackberries among the molds, then pour in the remaining yogurt mixture, dividing it evenly among the molds.
If using conventional molds, snap on the lid and freeze until solid, 3 to 4 hours. If using glasses or other unconventional molds, freeze until the pops are beginning to set (45 minutes to 1 hour), then insert the sticks and freeze until solid, 3 to 4 hours. If using an instant ice pop maker, gently fold the blackberries into the yogurt prior to filling the molds and follow the manufacturer's instructions.
"Reprinted with permission from Paletas: Authentic Recipes for Mexican Ice Pops, Shaved Ice, & Aguas Frescas by Fany Gerson, copyright © 2011. Published by Ten Speed Press, a division of Random House, Inc."
Photo credit: Ed Anderson © 2011