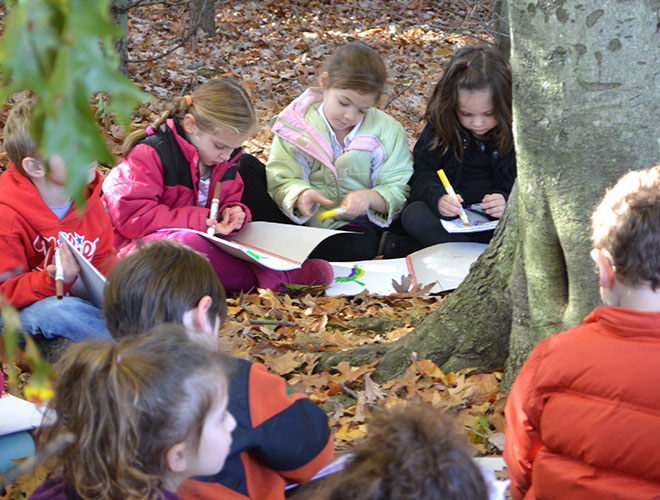 At JCC Association's Professional Conference in 2013, Mark Horowitz , JCC Association's vice president of early childhood education and family engagement, introduced the Sheva framework for early childhood education. And at JCC Association's Executive Leadership Seminar in February, it felt like history was repeating itself–with a twist.
Horowitz shared his expanded vision for the future, building on the foundation of the Sheva framework, which is evolving into the new Sheva Center: Innovation in Early Childhood Jewish Education and Engagement.
"When I first started at JCC Association, I spent a lot of time visiting JCCs and I realized that we needed to find a way that JCCs could have a unified voice of early childhood education…that we could be loud, that we could be proud and that we could make a difference," Horowitz said.
His first goal was to figure out in what way JCCs could have a standard and an understanding of excellence in early childhood education and not be the same. The challenge was quantifying and defining the idea of excellence.
"We've learned that with things like excellence, you can't really understand unless you can see it," he said. "Excellence is about the journey. It's not about what it looks like or a finished product. It's all about how you struggle, how you face your challenges and what you do to overcome them."
It was with this in mind that the mission of the Sheva Center was formed: to partner with affiliated JCCs by supporting their early education professionals in promoting and sustaining high quality early childhood Jewish education and engaging families on their Jewish journeys. With the growth of this program, come greater resources for professionals, including an online portal, peer learning communities, virtual learning opportunities, and more.
Tara Ohayon, early childhood director at the Aaron Family JCC in Dallas, Texas, is looking forward to being part of a greater network of like-minded professionals who share common goals and values.
"The new setup of the Sheva Center is going to expand the opportunity of networking and open the national support system to even more colleagues around the country," said Ohayon. "The Sheva framework has been empowering for our school."
Sheva, which means seven in Hebrew, is a powerful number in Jewish thought and practice. The Sheva framework employs seven core principles of early care and education and contemporary and ancient texts, using seven Jewish lenses to reveal universal values.
For Ohayon, "It grounds us and reminds us why we are here every day. I love hearing from parents in our school how they have friends around the country in other J's and they are all speaking the Sheva language together. It has become a national discussion not just for the professionals, but for the families in our schools as well."
To assist JCCs, a team of experts in the field of early childhood Jewish education, family engagement and Jewish life and living will also be available to provide on-site and virtual consultations tailored to the needs of each school. The 12 specialists each bring a wide breadth of experience and will be able to provide varied perspectives. They include:
Ellen Dreskin, cantor
Susan B. Glaser, early childhood consultant, partner, Who's the Boss Parenting Academy
Sandy Lanes, curriculum director, Jewish Community Center of Greater Washington Preschool
Jeane Ruckert Lovy, vice president, JCC Center for Families, Jewish Community Center of Greater Boston
Veronica Maravankin, early childhood director, Mandel JCC of Palm Beaches
Judi Morosohk, director of early childhood education, CAJE (Colorado Agency for Jewish Education)
Meredith Englander Polsky, national director of institutes and training, Matan
Kathy Pomer, professional development coordinator and pedagogical lead at the Jewish Community Centers of Greater Boston
Fretta Reitzes, director, Wonderplay Initiative and Goldman Center, 92nd Y
Karina Zilberman, director, 92Y Shababa Network, 92nd Street Y
"We send the strongest message by having educators realize that we perceive them as professionals. This has had huge impact on how they see themselves in the field with benefits on their focus and longevity," Pomer, said. "Everyone has embraced this framework as a way to galvanize our efforts and recommit to educators, children and families in a manner that feels unprecedented!"
Specialist Veronica Maravankin, the early childhood education director at the Mandel JCC of the Greater Palm Beaches, Florida,  sees this structure as a model for building a successful staff.
"As a director, I hire faculty members with complimentary strengths so we can maximize our work, and this is exactly what Mark is doing by bringing in consultants from different parts of the field," said Maravankin. "They are experts in different areas. This allows for customized coaching and professional development and better meets the needs of the schools."
In order to continually measure success, four lab schools within JCCs will create learning opportunities and materials as a means of testing and evaluating the work in the seven core elements of Sheva through a progressive lens. These JCCs will also continue to strengthen their early childhood centers with serious and regular professional development of educators and administrators.
"This is what Sheva was created for," Horowitz said. "If you don't have time for professional development, and for your teachers to learn and to gather together to learn and think, then your school is never going to be wonderful. That's where the magic is. "
The past decade has seen compelling new research concerning the brain development of young children, causing an evolution in early childhood education. New understandings of how children learn challenge our past assumptions and must inform future practice. Through the work of the Sheva Center, JCC early childhood education centers will continue to be examples of excellence in their communities and across the country.