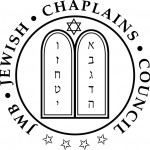 Sunday, March 13, will see the completion and dedication of the second small, lightweight Torah for use by military chaplains aboard the USS George H.W. Bush in Norfolk, Virginia. The Torah was created through the Torahs for Our Troops project of JWB Jewish Chaplains Council, and the generosity of the Leonard R. Strelitz Memorial Talmud Fund of the Tidewater Jewish Foundation. Rabbi Harold Robinson, director of JWB, will participate in the completion ceremony, along with Rabbi Israel Zoberman, president of Hampton Roads Board of Rabbis & Cantors. A celebration following the ceremony will be held at the Simon Family JCC in Virginia Beach.
The first Torah commissioned through Torahs for Our Troops was dedicated in the U.S. Capitol, and is currently being used by Jewish chaplains in the Middle East. Smaller, lighter scrolls are easier for chaplains to carry in the battle theater and from ship to ship. The support of the San Diego Jewish community is underwriting a third Torah, and fundraising for a fourth scroll is starting in Miami.
Jewish tradition considers it a mitzvah for every individual to participate in writing Torah scrolls, and that participation is usually interpreted as donating funds to commision the writing of a Torah. Each Torah scroll is handwritten by a specially trained scribe and can take months to complete.