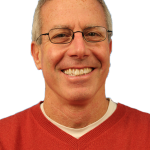 New York— Steve Becker, JCC Association's vice president of health and wellness has received the President's Council on Fitness, Sports & Nutrition (PCFSN) 2014 PCFSN Community Leadership Award.  The award is given annually to individuals or organizations that improve the lives of others within their community by providing or enhancing opportunities to engage in sports, physical activities, fitness or nutrition-related programs.
Becker consults with sports and wellness staff at JCCs throughout North America, overseeing programs and services related to health and wellness, including Discover @ the JCC, a partnership with Club One offering a holistic approach to health and well-being and Lenny Krayzelburg-JCC Swim Academy.
His work on Discover CATCH (Coordinated Approach to Child Health), a child-centered nutrition and wellness program, in particular, was singled out. Developed in collaboration with the University of Texas School of Public Health, CATCH is filtered through Jewish values and targets children age 3-5, encouraging them to develop lifelong healthy eating and exercise habits.
"Steve has worked to consistently promote the importance of physical activity, sports and/or good nutrition throughout the community," says Shellie Pfohl, executive director of the President's Council on Fitness, Sports & Nutrition. "Because Steve's efforts and contributions, the JCC community can embrace a healthier and more active lifestyle. Together we are all working to make our nation a healthier one."
Becker has worked at JCC Association for 13 years. The JCC Association is an umbrella organization providing program development, services and consulting to more than 350 JCCs, YM-YWHAs and camps throughout North America.
"Steve's work has been invaluable, not just to the JCC Association, but to the field of JCC professionals, who have benefited from his expertise," said Allan Finkelstein, president and CEO of JCC Assocation. "JCCs are the largest provider of early childhood education and Steve's work with CATCH has allowed JCC professionals to have a far-reaching impact on the health and well-being of thousands of children in their families across the country."
This year, the President's Council presented the Community Leadership Award to 44 recipients across the country for making sports, physical activity, fitness, and nutrition-related programs available in their communities.
About the President's Council on Fitness, Sports, and Nutrition
The President's Council educates, engages and empowers all Americans to adopt a healthy lifestyle that includes regular physical activity and good nutrition. PCFSN is a committee of volunteer citizens who advise the President through the Secretary of Health and Human Services. Through its partnerships with the public, private, and nonprofit sectors, PCFSN promotes programs and initiatives that motivate people of all ages, backgrounds, and abilities to lead active, healthy lifestyles. For more information about the Council, visit www.fitness.gov and follow us on Twitter @FitnessGov.