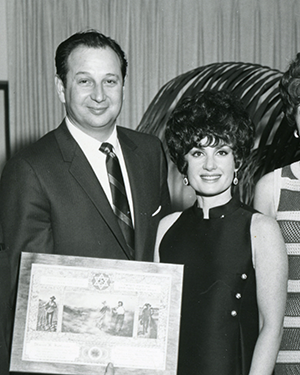 In 1952, a young veteran decided to give blood at the JCC. A chance meeting there changed his life forever, and gave our "Tell Your JCC Story" contest its first place winner. Becky Ewer, marketing and creative director at the Mittleman JCC in Portland, Oregon, submitted the story because, "The MJCC is a place to connect. You never know who you'll meet and how that person may change your life."
The story appealed across the board to our judges, who liked its simplicity, and how it captured a moment in time and place at the JCC that made a significant difference for the Saltzmans. In so many ways, it sums up what JCCs are all about.
Ewer got in touch with Ruth Saltzman—sadly Hal died five years ago—and she was quite touched by their story being selected. Of their whirlwind romance, Saltzman says, "It was crazy, but a good decision!"
We had so many entries that told the JCC story that it was hard to choose. But we hope you enjoy our first place winner as much as we did. Our first place winner appears below, and we'll be sharing our other winners and other stories and photos that we collect throughout the year as we celebrate our centennial.
Keep telling your JCC stories. The contest may be over, but we're still interested in hearing—and seeing—all the ways your JCC touches lives and makes an impact in your community.
When Hal met Ruth . . . we learned why the J is great
First prize — Mittleman JCC
The JCC was a popular meeting place for Portland's young Jews. Between clubs, sports, community activities and dances, many lasting relationships began there. A chance meeting at the JCC blood drive was the start of a lifelong love for Ruth and Hal Saltzman. Upon returning home from the Korean War in 1952, Hal went to give blood at the JCC. There he ran into Jerry Stern, Ruth's cousin, who lay on the next cot, also donating blood. Jerry questioned Hal about his love life. Upon hearing that Hal did not have a girlfriend, Jerry set him up with Ruth, his cousin from Salem.
"She graduated from Stanford University and she is a fine young lady and very lovely." Jerry told Hal, insisting that he call her right away. They set a date for Friday night.
Hal recalls, "She wore a dress that she still has. It is yellow and green. I don't know if she thought about Oregon's colors or not, but that sort of turned me on. We were immediately attracted." Hal asked her out again the next night, but Ruth already had a date and thought it would be rude to break it on such short notice.
So, Hal says, "Sunday we went out and I asked her to marry me. We didn't tell our kids for many years that we met on Friday night and got engaged on Sunday. It was the best thing I've ever done. We've had over 54 years together and she is still wonderful."
Our other winners:
Second prize
Raquel Lily, York JCC
She overcame serious depression, lost weight and found unconditional acceptance at the J.
Third place
JCC of Greater Baltimore


The Rat Pack is a group of "those guys" who have been exercising and kibitzing together for 21 years.
Honorable mentions:
Bill Monroe, Memphis JCC, Tennesee
Watching Neil Armstrong set foot onto the moon while at the J
Eliza Millman, JCC of Greater Washington, MetroWest, New Jersey. and JCC Rockland, West Nyack, New York
She found friends at the JCC's teen travel camp—and her career path.
The Mittleman JCC
Photo of a 1958 dance class that makes you just want to jump off that chair and join them

Jewish Community Alliance, Jacksonville, Florida
SuSu Cruse is that warm "hello" at the door for the past 15 years