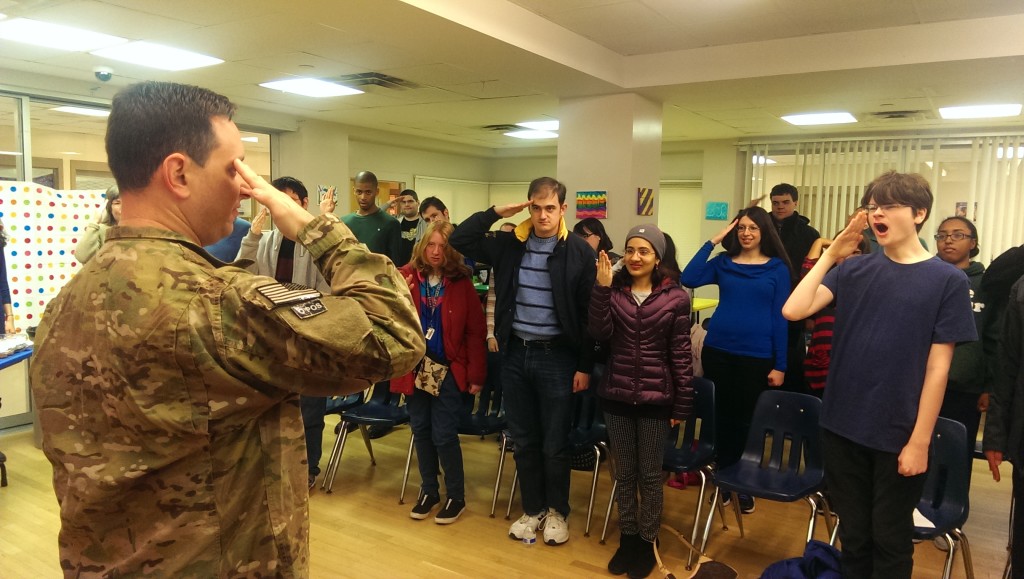 In 2014, JWB Jewish Chaplains Council, a program of JCC Association, launched Project Welcome Home in six JCCs around the country. The goal was to help JCCs find ways to reach out to U.S. service men and women and their families and to assist them in engaging with their communities.
The project incorporates the needs of veterans, their families and caregivers, as it helps ease their way back into community. The JCCs selected represent a cross-section of centers in size and location, and included the JCC of Northern Virginia of Fairfax; Barshop JCC of San Antonio, Texas; Kahn JCC of Columbia, South Carolina Addison-Penzak JCC of Los Gatos, California; JCC Chicago; and Robert E. Loup JCC of Denver, Colorado.
Laurie Albert, director of community engagement/outreach at the JCC of Northern Virginia writes about how the JCC launched Project Welcome Home and what they discovered along the way.
Connecting, building and fostering relationships are the building blocks to engaging members of your community regardless of who they are or what their background may be. Being selected as one of the pilot communities for Project Welcome Home (PWH), we applied the same philosophy to involve individuals and families who serve or have served in the military.
Our initial goal was to first heighten awareness of the military population that existed in our community and acknowledge and thank those who serve and continue to serve our country. We thought this was a really important step, to acknowledge that sacrifice.
We placed a large banner outside of our building on the main road, created fliers and website posts as a way to find our service men and women – it should have been easy, right? After all, we are located approximately 25 minutes from Washington, D.C. and within 20 minutes of an army base. We thought that we would have been able to reach more military families, and that they were there for the taking if only someone would pay attention to them.
Yes, we identified some of these individuals and families; however they were not coming in as large numbers as we thought they would. Clearly it wasn't going to be as easy as all that. We realized that this was an initiative that was going to take time and resources to implement. We also realized that for our community this was not a one-year commitment, but a multi-year endeavor.
In our first year, the JCC offered military membership incentives and program discounts to active duty or those recently separated from active duty. We quickly learned that we needed to make provisions for those with families as well, since that was primarily who we served. Throughout the year, the JCC hosted a variety of programs. In honor of Veterans Day, there was a special community Shabbat dinner and program, and our special needs department brought in a speaker (elaborate) for their young adult groups, where they learned how to properly salute.
Project Welcome Home was beginning to take shape and make its way through our J. We added movies, speakers and panel discussions in collaboration with our cultural arts and adult departments and to Cyclefest, and annual program from our health, fitness and aquatics department that benefits "wounded warriors." All of this helped raise even more awareness of the military in our community. Good Deeds Day provided opportunities for tikkun olam (literally, repair the world) projects – participants created beautiful Rosh Hashanah cards to go along with packages to send out to our service men and women in the fall; and PWH had a presence at our Israel Festival this past spring.
It was an exciting year and a learning experience. We had to tweak our emphasis somewhat—initially we focused on returning veterans; however, it became apparent that with the different ages the J serves, we needed to broaden our reach to include all veterans and bring them into the programs we were offering.
Now in our second year and with strong support from our board of directors, the JCC is hiring a part-time staff person to oversee and grow Project Welcome Home in our community. We look forward to continuing to collaborate with different community organizations, and with departments within the J to create programs such as Dive into Shabbat and Military Matters Week. We will continue to bring in speakers and authors and develop more family programs. Project Welcome Home continues to provide our J a way to connect with our military community.
We're really excited about seeing all of this take shape. And even though it wasn't clear how to reach our veterans and their families at the outreach, what we really learned was how important it is to do so.