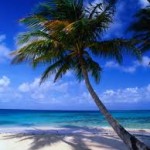 ??Most days, the Jewish and Dominican residents of the Inwood neighborhood at the northern tip of Manhattan have little contact. They move in different social circles, their kids go to different schools, they work in different fields. One place brings them together—the YM-YWHA of Washington Heights-Inwood–and no other Y program does that more deliberately than SOSUA: Dare to Dance Together. This musical theater project, conceived by Victoria Neznansky, the Y's chief program officer, and created by renowned composer Liz Swados, brings together 20 teenagers—10 Jews and 10 Dominicans—to give dramatic life to a little-known historical event that involves both groups. Using the differing experiences and talents of these two groups, and with the creative stewardship of Tony-nominated composer Liz Swados, Neznansky is building community beyond the walls of her JCC.
Inwood and Washington Heights boast the typical New York cocktail of ethnic and religious groups, only more so. More than half of the residents were born outside of the U.S., the highest rate in Manhattan. There are Russian-speaking Jews, German-speaking Jews who have lived there since the 1940s, some Greeks, recent Irish immigrants as well as those who arrived ages ago, and many Spanish speakers from all over the Caribbean. Of the different Latino groups, people from the Dominican Republic, or DR, predominate, making up 70 percent of the Spanish-speaking population.
"The power of art brings [together] people from all backgrounds," says Neznansky.  "This project brought these kids together." In 2008, Neznansky took a Y group to the Museum of Jewish Heritage to see an exhibit on Jews who had found shelter in the DR just before the outbreak of World War II. Dominican strongman Rafael Trujillo was one of the very few willing to give desperate European Jews a haven, inviting 100,000 to come. Between 1940 and 1945, about 650 Jews arrived, with the support of the Joint Distribution Committee, and were sent to live in a place called Sosua on the northern coast. Hardly an altruist, Trujillo had his own sinister reasons. He wanted to "whiten" the population of the DR, which shares the island of Hispaniola with Haiti. In fact, he had ordered the massacre of 20,000 Haitians who lived near the border in 1937.
Amazingly, the mostly Austrian and German Jews adapted to an agricultural life and established a successful farming cooperative on the abandoned banana plantation. Many of the young men married Dominican women, as Trujillo had hoped, but after the war ended, most of the Jews moved to New York or Miami. Some families remained, however, and there is still a synagogue in Sosua and a Jewish museum.
When Neznansky got a three-year grant from UJA-Federation of New York to develop a program that brought her community together, she immediately thought of Sosua. "It seemed natural to bring the exhibit to life." Neznansky approached Swados to create a musical theater project based on the material, and when Swados agreed, they sent flyers to local public and private schools to solicit equal numbers of Dominican and Jewish teens. There were many differences between the two populations, and it took a while before they began to treat each other with respect. Learning about a shared history of which they'd been previously ignorant led to a breakdown of barriers.
As part of her teaching the values of respect and compromise, Swados insisted that the teens be treated as professionals and paid for their work. While not a large honorarium, the gesture seems to have had the intended effect. The teens researched and wrote their monologues and three songs. One Dominican boy in the original group, Jordan Hoepelman, discovered that his father was the child of German Jews. Jordan is now in his third year with the production, but other teens have moved in and out of the cast, so that 40 different kids have worked and performed on SOSUA. And the eclectic group has been privileged to work not only with Swados, but with a series of creative arts professionals personally sourced by Swados to be a part of the growing team of arts professionals who have invested in this dynamic and unusual artistic process.
Neznansky has used Sosua as a way into her teen community.  "We noticed that generally, Jewish teens were not present here," she says, so she has created ways to extend and deepen the experience for Sosua participants by developing other programs and services for the teens to keep them engaged.  One of these programs is SAT prep, which provides a framework for students to begin thinking beyond high school. And she has created job opportunities for her emerging artists as well.  "This group will not come if it isn't free," Neznansky says, so the Y is providing different opportunities for the Latino teens to work as counselors. She has proven without a doubt that once the community invests in these kids, the same kids work to give back to the community. According to YM-YWHA of Washington Heights-Inwood Executive Director Marty Englisher, the program has had a great impact on the teens. Three participants have gone on to the Tisch School of the Arts at NYU.
And all the teens have experienced the thrill of performance. In addition to presenting the show at the JCC of Manhattan, they have performed at the Schomburg Center for Research in Black Culture in Harlem and as part of the Latino International Theater Festival of New York. A recent performance took place at the Time Warner Center when the American Jewish Committee honored New York Attorney General Eric Schneiderman, who originally arranged for the exhibit to come to the Museum of Jewish Heritage. In January, they are scheduled to perform at the United Nations to commemorate International Holocaust Remembrance Day.
Early in the process of the show's development, Neznansky reached out to documentary filmmaker Renee Silverman, who in turn brought in Peter Miller, who has produced documentaries for PBS. They now have 80 hours of footage that documents the creative and emotional growth of the show and of the participants, and they are actively seeking funders to complete the film.
One of the songs in the show asks "Who are these people?" and that question underscores the impact the project has made on the participants. Teens who would never have met have gotten to know each other, and the Y. As Englisher puts it, "I thought this is great because it connects the majority/minority of my community to us."