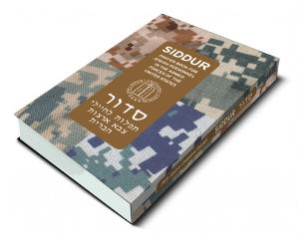 Manhattan synagogues to use new JWB siddur over Memorial Day weekend
This Memorial Day weekend, three Upper East Side synagogues will remember the Jewish men and women who have died defending the United States by using the JWB Jewish military siddur, or prayer book, during Shabbat services.
The three synagogues — one each from the Orthodox, Conservative and Reform movement – will use the newly released siddur during services beginning Friday evening at three separate services. On Friday, May 23, services to honor our troops begin with Kabbalat Shabbat at 6 p.m. at Central Synagogue, 652 Lexington Avenue, where David Frommer, the first cantor to serve in the U.S. military will be featured in the service using the siddur.
On Saturday, May 24 at 9:15 a.m., the siddur will be used at Park Avenue Synagogue, 50 East 87th Street, a Conservative congregation. Steven Rein, the congregation's assistant rabbi and a chaplain in the Air Force reserve, will speak. To conclude the day of rest, Congregation Kehilath Jeshurun, an Orthodox congregation, will use the prayer book for evening services beginning at 7:50 p.m. at the Ramaz Gottesman Center, 114 E. 85th St. David Posner, JCC Association vice-president and director of strategic performance, who coordinates JWB with JCC Association, will speak at the end of the mincha, or evening service, before the congregation breaks for seudah, the traditional third meal of Shabbat.
"This will be a rare opportunity for congregations to use this siddur, which is really meant for our military chaplains and the men and women they serve," said retired Rear Adm. Rabbi Harold Robinson, director of the JWB Jewish Chaplains Council, a program of JCC Association. "But it is a fitting Memorial Day tribute to use in a congregational setting, reminding us of those who have sacrificed so much for our freedom."
The prayer book was introduced at JCC Association Biennial in San Diego in late March and used during Shabbat and daily services during the conference. The JWB Jewish Chaplains Council is a program of JCC Association.  Because of a special "copyright of exception" granted by the three Jewish movements that participated in creating the siddur, the book will be restricted to use in branches of the military and by the Department of Veterans Affairs. It is not meant for congregational use, said Rabbi Robinson. The goal was to create something that borrowed from source material from all streams of Judaism, and is exceptional in that rabbis across denomination have been authorized to use it, even with inclusion of liturgy from other denominations.
The siddur is the first major revision of the prayer book used by military chaplains since World War II. This version represents a unique collaboration between all three movements, which saw enormous value in coming together to create something of enduring worth for the men and women who serve their country. It incorporates Hebrew and English text from their existing prayer books expressly for use by the JWB.
The JWB Jewish Chaplains Council advisory board felt there was a need for the siddur because its chaplains were using a variety of prayer books depending on what the rabbi or trained lay person leading services chose to use. This was often the prayer book with which he or she was most comfortable, or simply what was available at the base. This worked adequately for the rabbis, but wasn't as successful for Jewish service men and women, who had to get used to a new siddur as they moved around from base to base.
The first prayer books published by the JWB date back to World War II and many still exist. That edition was an abbreviated one. The Orthodox movement, at that time, then issued a companion edition to meet the needs of Orthodox military personnel. In the early 1980s, the prayer book was updated and reintroduced.
But since that time, each major Jewish movement has published a new edition of its own prayer book and it was about time that JWB followed suit, Robinson said. The changes include gender-neutral language, Hebrew and English text, as well as transliterations of the Hebrew.
It is also believed to be the only prayer book of any religious group that includes a forward by President Barak Obama, acknowledging the sacrifices made by the men and women who choose to serve their country.