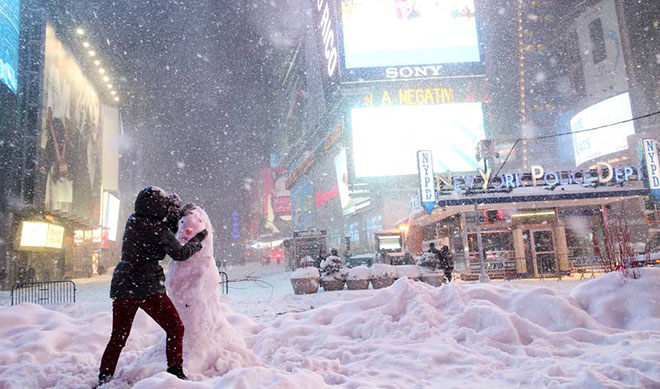 It snowed here this week. You may have heard about it. It snowed so much that many members of our board were unable to come to New York for our annual board meeting—for which we had been preparing for months. But that didn't stop us, because thanks to clever use of technology, the skill and hard work of our staff and an all-star board, we were able to ensure that everyone slated to participate could do so by video-conference and telephone alongside the brave souls who made it into town.
It was a high energy and highly productive meeting, focused on the work of setting policy, advancing resource development, determining our budget, and exploring our goals and obligations as an organization to strengthen JCCs.
We also launched an initiative designed to provide an exhaustive review of our business model. We are zeroing in on the areas most important to JCCs and Jewish life as a whole by recommitting to the ways JCCs most value our work. This includes renewed focus on a service model structured upon what we do best: building relationships and sharing best practices among JCCs.
We believe that the stronger the ties among JCCs, as convened by JCC Association, the more excellence can grow in the JCC world. Excellence comes from sharing what works best. Excellence comes from JCCs learning from each other. Excellence — is what happens when we really work together.
Our board is excited to be re-imagining our work in the context of the ties that bind JCCs to excellence, especially because we have the opportunity to continue this week's board conversation with the nearly 80 executive directors at our Executive Leadership Conference in Phoenix next week. We will be sharing what we have learned here on Sounding Board, too.
It snowed so much this week that even the hardiest among us had to make changes in plans. Just as members of our board got stuck–in airports from California to Kansas City to Florida, and in train stations all along the East Coast–so, too, was Bruce Springsteen stuck. He had to cancel his concert in New York City on Sunday, which is kind of like canceling creation itself.
If you know Bruce like we know Bruce, then you know that he is all about relationships, too. He would never want to let his fans down, even in the most trying of times. From the E Street Band to the 20,000 people who will join him at Madison Square Garden tonight (yes, the snow did stop eventually and yes, we are still trying to finagle tickets), Bruce believes in searching for the ties that bind people together toward the greater good, even when conditions are hard. No matter the weather, those ties that bind are at the heart of our vision, too.