A Shabbat of peace — and of hope
How wonderful it is to write this update now that the 50 days war in Gaza is behind us. A war that took the lives of 71 Israelis, including today's last casualty, Netanel Maman, who was critically wounded a week ago. When the rocket hit he was home for the weekend after fighting in Gaza. Netanel died earlier today from his wounds. 

The long, exhausting war is behind us. It was wonderful seeing the Iron Dome battery being removed from our town, knowing we didn't need it any more. It's exciting to listen to the radio without any siren interruptions, and it's reassuring and optimistic to see the Israeli residents of the south returning home after many weeks away.

 But unlike our neighbors in Gaza, Israelis aren't celebrating the end of the fighting. We didn't take to the streets, shooting and firing weapons in "victory" celebrations. We didn't spread calls for revenge or a promise for a next round.  And we didn't have our children carry guns and join a parade as Hamas terrorists did.

We can look back at these 50 days with pride that we stood together, that our national strength didn't fail, and that our brothers and sisters overseas once again came together to embrace us with love and solidarity.
Our way of marking the end of this long operation is to mourn our 71 dead. We acknowledge their sacrifice, their families' great loss and embrace their bereaved loved ones, whose lives will never be the same. Wars aren't a game of winners and losers. Everyone loses in a war.

A few weeks ago, when the war began, I wrote about my dear friend Yigal, a JCC director who lives just a few miles from the border we share with Gaza. Yigal and his family spent most of the summer in a bomb shelter and his JCC operated from one, while continuing to offer activities and programming to the residents of the south.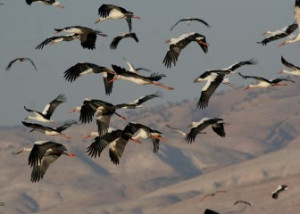 Yesterday Yigal wrote to me, telling me that for the first time in 50 days, he woke up to the sound of birds singing. Birds never really stopped their magnificent singing, not even in Gaza, but only on days of peace can Yigal, his family, and millions of Israelis truly hear them. Only then do they have the peace of mind to listen to their singing and appreciate the beauty of life.

Wishing everyone the pleasure of hearing the birds sing for many days to come.

Shabbat shalom and happy Labor Day

Leah Garber