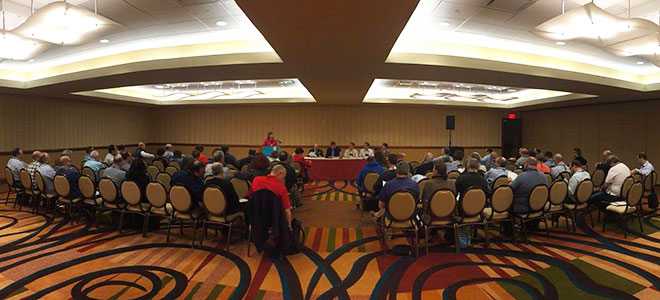 Here at Sounding Board, we're still thinking about the energy and togetherness of the JCC Association Executive Leadership Seminar. Nearly 80 executive directors of JCCs and affiliated camps came together for four days of conversations on topics ranging from creating a culture of security to the rollout of a dramatically expanded Sheva Center, our framework for Jewish early childhood education.
We explored design thinking with UpStart, the future of fitness and wellness with EXOS (passing this year's Heisman Trophy winner in the EXOS campus cafeteria along the way) and had a chance to hear views on innovation in Jewish engagement from five colleagues steering JCCs of different sizes in a variety of locations. The core of ELS is Size of JCC groups, where colleagues new and old go deep with trusted partners about the challenges and opportunities facing their communities.
We also outlined a new JCC Association service model, which you will be learning more about in the months ahead. We are focused on five ways of doing what we do best: building relationships and best practices to power the JCC professionals who power JCCs. Shared knowledge bases, regional hubs, centers of excellence, cohort learning and consulting provide the structure for the magic of building community and enriching lives we all train and sustain for together.
ELS–like our Biennial Conference, for which registration is underway–epitomizes the generosity, talent, and wisdom of JCC leaders at every level. We all know that JCCs are places for friends and family to learn, stretch, and celebrate. JCC professionals are a family, too, and the more we work together and leverage our talent as a network, the more our communities will grow.
There has got to be a song that a family like ours can sing. Oh yeah. It goes like this…