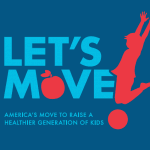 Vice-President of Program Services Patricia Cipora Harte and Social Responsibility Consultant Barbara Lerman-Golomb are taking part in a conference call on Wednesday, March 30, organized by the Let's Move faith and community partnership. Let's Move is the initiative launched by First Lady Michele Obama to combat childhood obesity. As a partner, JCC Association has committed itself to encouraging community gardens and other food-related projects in JCCs.
Other participants in the call are Livia Marqués, director of USDA's People's Garden Initiative and Randy Seagraves, curriculum coordinator, National Junior Master Gardener (JMG) Program.
The call is scheduled for 2 p.m. EST. 
Call information:
Toll Free: 1-888-455-4787
Participant Passcode: 7701770#