By Leah Garber
"At the heart of every difficulty lies an opportunity."
—Albert Einstein
It is no secret that the state of Israel is facing one of the most challenging periods it has ever known: Weekly, hundreds of thousands of protesters of every political persuasion and religious affiliation all over the country head out to demonstrate against the legal reforms being proposed by the current government. Other protesters, with equal fervor, express their support for the reforms and the need for change. Protesters have been taking to the streets for 24 weeks—a total of six months thus far.
The conversation is heated, passionate, and inescapable.
Attempts to find a compromise between the parties, with diligent mediation of President Herzog currently are bearing no fruit, and a dignified way out of the political chaos is not in sight.
What shall be?
Will this be the year, during the 75th anniversary of the Jewish state, that our beloved Israel is no longer considered a young state who, like a child, is forgiven with a smile and understanding for her faults? Rather, is our country to be considered a mature entity that is expected to hold an in-depth, serious, public discourse—perhaps the first of its kind—to agree upon its core values?
Is it even possible to agree on core values that define all its citizens? And what about conflicting values? How can we overcome the gaps and build bridges, knowing that every crack has the potential to collapse the entire structure and drown us all in the raging waters below?
I choose, perhaps because I am a tireless optimist, to see the opportunity. We may be experiencing growing pains, and as annoying as they are, they are necessary for our development as a people.
The ongoing protests testify to the tremendous commitment Israelis have to our future and the resilience of Israel's democracy, all of which enable these legitimate protests from opposite ends of the spectrum.
Now is our opportunity to leverage this active involvement and to have an in-depth discourse that includes many partners. First and foremost, of course, are the citizens of Israel, whose views are represented across the entire political and social spectrum. World Jewry is not exempt from this conversation, however, as they have much to contribute to a discussion about identity in the homeland of the Jewish people—which is their homeland, too.
I recently attended just such a gathering in Jerusalem that was as part of the World Jewish Congress's annual conference. In attendance were more than 120 Jewish leaders from 50 countries and a corresponding group of more than 100 Israelis. Together we deliberated such questions as:
What should Israel's role be in combating antisemitism and fostering Jewish life in the Diaspora?
What role should Diaspora Jewry play in supporting Israel?
Should Diaspora Jewry be involved in domestic Israeli affairs and if so, should Israeli Jews be involved in the internal affairs of Diaspora Jewish communities and others?
The conversation was fascinating and inspiring. I learned a lot about the significant differences among various communities and about the unquestionable bond and commitment to the state of Israel and its people that we all share. I heard sincere concern for what we are going through here in Israel and at the same time, immense pride in Israel's contributions to the Jewish people.
Above all, I came away with an uplifting feeling that the Jewish world is greater than the sum of its parts and that the history of the state of Israel, too, is greater than the sum of this year's events, however troubling they may be. What unites is greater than what divides, and the sense of urgency and the sense of mission that burns in the hearts of the protesters is my hope. The opportunity for conversation is one we must embrace, leverage, and use as a tool for growth.
Despite the ongoing protests, this summer will be the busiest in Israel that JCC Association of North America and the JCC Movement have ever known, with close to 1,800 individuals visiting the Jewish homeland as part of numerous teen and family trips and, of course, the JCC Maccabi Games.® In addition to enjoying the land, people, history, and cultures of Israel, the summer's visitors are fortunate they can join in celebrations marking the milestone anniversary of the Jewish homeland. They will return home with an enriched Jewish identity and perspectives that go far beyond what the media generally reveal.
The fact that the numbers of people coming to Israel are only increasing is proof that we have a great country, and it is precisely those who come from afar who remind us of our treasured homeland.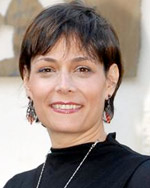 Leah Garber is a senior vice president of JCC Association of North America and director of its Center for Israel Engagement in Jerusalem.