Israel is part of the eternal story of the Jewish people. Make it an integral part of your JCC.
The JCC Association Center for Israel Engagement connects your JCC to Israel and helps you infuse Israel in everything you do. The way you incorporate Israel can make a difference in such diverse areas as early childhood, teen and senior offerings. There is no area of the JCC that can't benefit from a little ta'am, or taste, of Israel.
Our JCC Association Center for Israel Engagement staff can tailor Boarding Pass trips, staff seminars and teen summer journeys for your JCC, that focus on the specific interests and connections that your JCC wants to make. Whether you seek engagement for novices who have never traveled to the Jewish homeland, or want in-depth, off-the-beaten trail experiences for those who have been dozens of times, our staff can make it happen. Whether you want an arts and culture slant, a family-friendly visit or a relaxed visit just for seniors, our staff has the connections and ties to the Israelis who can make it happen.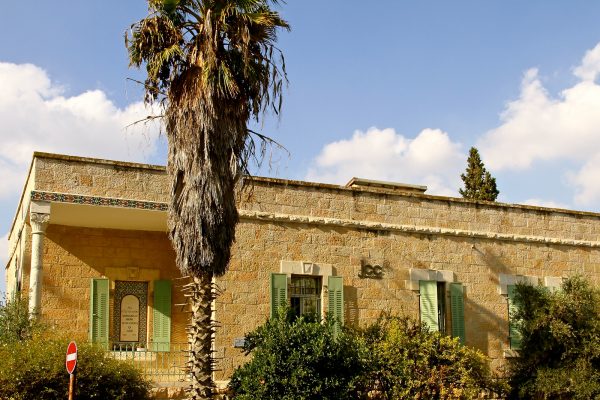 From our offices, our team creates exciting educational materials for JCCs, oversees a vibrant program of placing shlichim, or Israeli emissaries, in JCCs, and most importantly, continues a strong Israel connection in all JCCs. Since 1986, close to 400 groups have traveled under the auspices of the JCC Association Center for Israel Engagement bringing more than 5,000 JCC participants, board members, professionals and teens to the Jewish homeland. Our goal it to make Israel vibrant, meaningful and relevant to those who connect with the JCC—and to in turn see that connection strengthen your JCC.
JCC Association Center for Israel Engagement History
Our two story JCC Association Center for Israel Engagement office is a former residence, built by an Arab-Christian cleric who purchased the 999-year lease from the Vatican.
Over time, it has served as offices for the French Consulate, the Polish Red Cross and eventually a residence for the director of the International YMCA, located nearby.
In 1977, the Jewish Welfare Board (now JCC Association) purchased the building at the urging of Sol Litt, Mort Mandel, Dan Rose and Herbert Milman following their visit to Israel for the founding conference of the World Confederation of JCCs.
In addition to housing our professional team, JCC Global occupies an office within the building, which has been declared a historical landmark.
Contact
Leah Garber
Leah Garber is the vice president of Israel engagement at JCC Association and the director of the Center for Israel Engagement in Jerusalem, where she facilitates connections to Israel in all JCCs in North America. She previously served as a shlicha (Israeli emissary) in Pittsburgh, Pennsylvania, providing an educational and cultural link between the local community and the people of Israel. Garber also served as a teacher and principal at the School for New Immigrants under the Israel Ministry of Education. She holds a bachelor's degree in educational psychology and art history from Hebrew University; an MBA in finance and human resources from the Academic School in Kiryat Ono, and a general management diploma from Beit Berl College. A native of Jerusalem, she lives in Modi'in with her family.
Contact Leah
Sara Sless
Works in close cooperation with JCCs to develop Israel training seminars, including logistical and educational components. Provides JCCs with initial guidelines and budgetary information to assist in planning Israel seminars for staff and lay leaders.
Contact Sara