The honey and the sting – על הדבש ועל העקץ
All of us in Israel were excited to see the Shalva Band do so well on "Rising Star," Israel's televised talent show that recognizes outstanding performances, complete with judges, audience voting, and lots of hopes and dreams.
The Shalva Band, made up of excellent musicians, are no ordinary group. Eight unique talents perform to the highest musical standards, inspiring crowds with its repertoire and charm, with hope and optimism.
They are the crown jewel of Shalva, the Israel Association for the Care and Inclusion of Persons with Disabilities, one of Israel's many outstanding nonprofits supporting those with disabilities. Shalva serves all participants regardless of religion, ethnic background, or financial capability. Shalva is dedicated to providing transformative care for individuals with disabilities, empowering their families and promoting social inclusion.
Shalva's comprehensive life-cycle programming provides leading-edge therapies, inclusive educational frameworks, social and recreational activities, employment training, and independent living, as well as respite and family support. Most JCC groups visiting Israel through our JCC Association's Israel programs enjoy the opportunity to visit Shalva and witness miracles first hand.
Therefore, when the Shalva Band made it to the finals, it was a moment to remember, it was the proof that the human spirit can overcome physical disabilities. We all had our eyes on the prize: the Eurovision Song Contest.
Thanks to Netta Barzilai's win with her song "Toy," last May in Portugal, this year, for the third time, Israel will host the international song competition held primarily among the member countries of the European Broadcasting Union.
Since its inauguration in 1956, Eurovision has been broadcast every year, making it the longest-running annual international television contest and one of the world's longest-running television programs. It is also one of the most watched non-sporting events with audience figures of between 100 million and 600 million internationally.
Israel has participated in the Eurovision Song Contest since 1973 and has won the contest four times. The only time Israel did not participate was when the contest in The Hague conflicted with Yom Hazikaron—Israel's Memorial Day—a day where no Israeli feels like singing and celebrating.
The competition is hosted each year in the country of the previous year's winner. Because of Barzilai's win, this coming May, Tel Aviv, the first Hebrew City, will decorate itself in festivity and embrace this wonderful opportunity to share with the world our real Israel. Some nations, particularly Arab ones, will choose for political reasons not to celebrate, because of Israel's participation.
Nonetheless, 42 countries will send their winning teams to sing, celebrate and above all, rejoice in the language we all speak so well, the language of music. Dare to Dream is the 2019 official theme, but for the Shalva Band, their spectacular performance, seen widely in clips on social media, the dream is not to be.
The Shalva Band was hoping to represent Israel at the contest. They would have been featured not only as Israel's best musical band today, but also as Israel's gift to people with disabilities, the gift of equal opportunities and inclusion. The gift of daring to dream. You can watch their amazing finalist performance of their original song, "I See Something Good Within You," here.
However, because of Eurovision's strict guidelines and regulations, staging of compulsory rehearsals that will take place on Friday night and Shabbat, just prior to that night's performance.
Following the Eurovision organizers refusal to offer any exceptions for the Jewish state's ultimate winner, Shalva Band dropped out of the contest because it would force some of its observant members to perform on the Shabbat, which contradicts their beliefs and traditions.
How ironic and sad that there were no limits to these eight amazing young musicians until they encountered technical guidelines. They have performed all over the world, their voices allowing others to see what their own blind eyes cannot, spreading beauty among so many, sharing hope and brightness greater than the darkness that has stolen their sight. But here, in their home country, for the first time, they have reached the glass ceiling. Dare to Dream? Perhaps under very different circumstances that respected religious values and choices more than regulations they might have.
It is the honey and the sting. The Shalva Band's stellar achievement and the crass reality of Eurovision's inability to compromise.
Shalva, the organization behind the band, isn't alone in Israel addressing special needs, working for inclusion for those with disabilities and supporting at-risk populations. Caring, nurturing organizations focused on equal opportunities abound, and another one of these outstanding organizations is Yaelim, Nature Therapy for Youth-at-Risk in Jerusalem, which uses nature as an all-encompassing therapeutic resource to empower the city's marginalized youth, religious and secular, Jewish and Muslim and to give them the life skills they need to integrate fully into greater Israeli society.
Nineteen-year-old Ori Ansbacher volunteered at Yaelim, as part of her national service following high school, an alternative to military duty. Late Thursday evening Ori was found murdered in the Ein Yael forest of Jerusalem near Yaelim, where she often went to read or write poetry. A 29-year-old Palestinian has been arrested for her rape and murder. He left his home in Hebron that morning with a knife and a single goal.
Ori's parents, Rabbi Gai and Naama Ansbacher, described Ori as "a holy soul who sought deep meaning and had a sensitivity for each person and living thing. She had an endless desire to repair the world in goodness."
Ori dared to dream. Her poetry imagined a better world, one of peace and possibilities. She will never grow to spread her own Or, Hebrew for light, for those who need it. Her dreams, her youth, her life, were stolen, violently, horrifically.
The honey and the sting.
May Ori's memory be for a blessing and may Shalva's blessed voices fill the Jewish world.
To bring you some light, listen to more of Shalva's music here, here and here.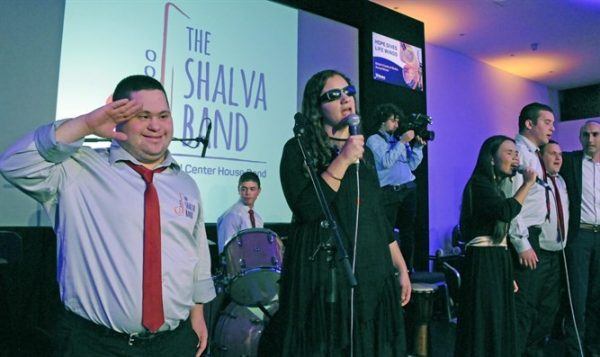 Leah Garber, Vice President, Director, JCC Israel Center