Jewish Renewal
This past Monday, I was privileged to represent the JCCs of North America at a private reception for Israel's new prime minister, Naftali Bennett, shortly after he delivered his first address to the United Nations General Assembly. We gathered on Manhattan's Upper East Side, at the Moise Safra Center, one of the newest JCCs in our movement. Filled with lay and professional leaders from dozens of entities across the Jewish landscape, many of whom had not seen one another in person since before the pandemic, the room buzzed with anticipation. The attendees exemplified the broad diversity of our community—defined every bit as much by what distinguishes us from one another as it is by the essential elements of peoplehood and tradition that bind us together.
Convened by Jewish Federations of North America (JFNA) and UJA-Federation of New York, the event drew a host of members of the Conference of Presidents of Major American Jewish Organizations and Federation leaders from as far away as Miami and Chicago. Speakers included Mark Wilf, JFNA's extraordinary board chair; Amy Bressman, board president of UJA-Federation of New York; and Rhoda Smolow, Hadassah's national president, all of whom emphasized not only the strength and diversity of our community, but also its leaders' undying commitment to one another, Israel, and the Jewish world.
All this was, of course, a precursor to the introduction of the prime minister. And he didn't disappoint. Naftali Bennett was born to parents who came of age in the San Francisco Bay Area of the 1960s. He described them as "hippies." The six remarkable days in June 1967 changed their lives. Having watched as the still young state, on the brink of destruction at the hands of powerful Arab armies arrayed against it, rose up to defeat its enemies in spectacular fashion, Bennett's parents were inspired to make aliyah and begin new lives in the nascent, reborn Jewish state. Their son grew up a child of the Zionist movement—a product of the liberal tradition of the American Diaspora and, at one and the same time, a first-generation Israeli.
He served proudly in Israel's most exclusive commando unit and built a successful career in hi-tech, living and working for years in New York City with his wife and young children. It was during this period in the United States that his wife formed a connection to Judaism, which led them to raise their children in the Modern Orthodox tradition. After selling his company, Bennett returned to national service, rising to chief of staff to then-Prime Minister Benjamin Netanyahu and later serving as minister of education, minister for diaspora affairs, and minister of defense.
On June 13th of this year, he became prime minister, and together he and Alternate Prime Minister Yair Lapid preside over the most diverse coalition in Israel's history. The government includes right-wing, centrist, and left-wing Zionist parties along with the Islamist Ra'am party. To many, such a coalition would seem a recipe for paralysis, but the reality has been exactly the opposite. Although there are significant differences among the members, they remain focused on the greater good of the state and all its citizens. What's more, the public face of this remarkable community of leaders has been one of collaboration, goodwill, and a readiness to work together—notwithstanding myriad issues on which coalition members hold fundamentally contrasting points of view.
At its core, the prime minister's message was about unity.
He spoke about critical moments in our people's history in which a breakdown in a shared commitment to national and communal interests resulted in disaster, as Lazar Berman and Jacob Magid reported in this "Times of Israel" article: "We have this bug, this legacy of division in our people," he lamented, before describing the loss of the temples in Jerusalem," prompted by a seemingly unthinkable civil war. He talked, too, about the country's internecine political struggles in recent years, the risks they pose to Israel and its people, and the imperative to do better—the same imperative that gave rise to his historic coalition, which the press reported thusly:
"If we don't sit together, this thing is going to tear apart," he said. "This time, we're not going to let it fall apart," Bennett promised to applause, acknowledging that he had in the past demonized some of his coalition partners, as they had demonized him, and stressing that the left is no less patriotic than the right. In the serious business of governing Israel, he said, the coalition is working.
He spoke about divisions and differences between Israel and the wider Jewish world—divisions that must be explored and debated as part of a commitment to greater mutual understanding and a shared dedication to the common good of the Jewish people: "If there's one thing I want to import [emphasis is mine] from American Jewry to Israel, it's the ability to listen, the ability to not put people in a box," he said. "Here, you're just a Jew, and you're welcome."
That comment got me thinking. The new prime minister was talking about us. All of us, of course, but in particular, he was talking about JCCs—places where all are welcome, where all are included, where all are celebrated—places where the measure of one's part in the Jewish world is both simple and pure. You're one of the family, a member of the community, an essential part of the Jewish people—irrespective of politics, religious tradition, or ideology. I love that the prime minister is determined to take this foundational element of who we are—to Israel.
There's a part for us to play, too. At this time of hyper-politization and polarization of ideas and ideology here at home, we must remain anchored to this fundamental principle. We must not permit disagreement and division of opinion to devolve into discord and disharmony. Prime Minister Bennett told us we are a light within the Jewish nation. To be worthy of such praise, we must remain steadfast in our commitment to common cause and common purpose, to Jewish community, and to the Jewish people.
In the words of Hillel the Elder:
אם אין אני לי, מי לי? וכשאני לעצמי, מה אני? ואם לא עכשיו, אימתי?
If I am not for myself, then who will be for me? But when I am for myself, then what am "I"? And if not now, when?
Shabbat shalom.
Doron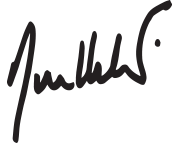 President and CEO
JCC Association of North America