Regular Days
What ever happened to regular days? They were central to the strategic plan. They're when we get our work done. We design and develop programs. We build and evolve systems. We recruit and deploy leaders, managers, and staff. We measure our progress against short-, medium-, and long-term targets and expectations. We learn and adjust along the way—all in pursuit of something better: Growing enrollment, strengthening family engagement, increasing the vibrancy of our communities, and promoting a commitment to Jewish peoplehood, Israel, and the Jewish world. They're when we do what we do best, and to be successful, we need those regular days.
From long experience we know that now and then, in the face of a crisis, we need to pivot so we can respond. We realign our resources and reallocate our time. We capitalize on our community infrastructure and expertise, often in partnership with others who share our commitment. We find inspiration in the cause and in the heroism of those at the forefront. Once it passes, we revert back to our continuing work and those regular days—better for the reminder that we are capable of so much more.
Regular days.
Is it strange that sometimes it's hard to remember quite what those are like? How can we effectively pursue and achieve strategic goals when there's insufficient time and opportunity for their pursuit? Each week as I sit down to compose this message, I reflect on the events of recent days, encounters I've had with colleagues and partners—at JCC Association, across the JCC Movement, in the wider Jewish community, in Israel, and in the world around us. Themes and topics usually come easily. Not this week. This week I wrestled with the paradoxical juxtaposition of both too few topics—and too many.
The ongoing Russian onslaught in Ukraine has placed 200,000 Ukrainian Jews in the crosshairs and created a refugee crisis of titanic proportions. This week, the persistent rise in antisemitism brought threats, once again, to JCCs here at home. We've begun our third year of pandemic living to say nothing of staffing and supply shortages, rising inflation, and faltering financial markets. With each passing week, if it's not one thing it's another—a crisis traffic jam that seems to take us off course, over and over again.
When will we get back to doing business the way we'd planned? When will we return to regular days? In the midst of the maelstrom, it can be hard to know when we'll see enough daylight to, once again, feel the freedom to plan and proceed with confidence.
Until we do, it can seem like we're just grinding through the days—while grinding ourselves down in the process. Perspective is the key if we want to make sense of what's happening now—what we're viewing from the eye of the storm—and how it fits into a wider frame. This certainly isn't our first rodeo. We've enjoyed periods of calm and we've weathered the storms. The former provided opportunities to plan and to dream, while the latter found us harnessing the upshot of prior plans and dreams to meet a crisis with confidence and resolve.
Perhaps there's an issue with the notion that we do our most important work during regular days. Do crises divert us from our plans and disrupt our pursuit of dreams and ambitions, or are they precisely the things that animate them? As leaders, we understand implicitly that there are limits to our ability to assert control over the circumstances in which we lead. Crises oblige us to come together in common cause and common purpose. They expose our vulnerabilities and remind us that we're far less so when we realize we're not alone. Crises reveal reservoirs of strength, will, and fortitude that might otherwise go undiscovered. It hasn't been easy—nor is it likely to be for the time being—so more, therefore, is expected of us.
In the coming weeks we'll celebrate our people's triumph over evil on Purim and our exodus from slavery to freedom on Pesach. We'll remember the six million and we'll mark the 74th anniversary of Israel's independence. We'll celebrate the heroes who led us through trial and turmoil, and we'll be reminded of the importance of community, of coming together in the face of adversity, and how each ensuing period in our history has been informed by our experience in the crises that preceded it.
Regular days?
We don't decide when we'll be seeing them again, but we do decide what to do with the days we've got—these days—in which we'll do our finest work.
May we go from strength to strength.
Shabbat shalom.
Doron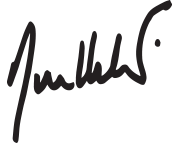 President and CEO
JCC Association of North America