The Length of a Week
With snow falling into the early hours of this past Monday morning, I wasn't the least bit disappointed to head to Arizona for a few days, where cool winter evenings bring temperatures in the 60s. Together with JCC Association of North America Board Chair Gary E. Jacobs, I spent the week visiting three remarkable and distinct Jewish Community Centers (JCCs).
The Martin Pear JCC in Scottsdale, a large and picturesque suburb of Phoenix, is the only JCC on the continent named in honor of a former CEO. Pear, z"l, spent a career in dedicated service at JCCs across the northeast and Florida before settling with his family in Phoenix. He was a model of commitment to Jewish life, to community service, and to providing a warm and welcoming home to all who passed through his JCCs' doors. His daughter and son-in-law, Rachel and Jonathan Hoffer, met, naturally, at the JCC, where both grew up and were inspired to become Jewish communal leaders, first at home in Arizona and now with organizations that serve communities across the continent—Jewish Federations of North America (JFNA) and our own JCC Association.
Pear led the JCC before it moved to its current location, where it is the centerpiece of a magnificent community campus. We speak about JCCs as the Jewish community's town square and that is precisely the feeling one gets from the moment you arrive. Its visionary leadership, including newly installed Board Chair Barry Markson and CEO Jay Jacobs, a JCC Movement veteran, are working on plans to add a theater and expand an already extraordinary aquatics center, broadening opportunities to engage the Jewish community of more than 100,000 who call the area home.
Roughly 110 miles away, the Tucson JCC, with the magnificent Santa Catalina Mountains as its backdrop, also is contending with a rapidly growing community that now numbers 28,000, as more Americans leave major metropolitan centers on the coasts. A unique and expansive sculpture garden befits the community's deep appreciation for and commitment to the arts, and the new tennis center reflects the ever-evolving pursuit of more.
It is the soul of this place, however, that stands out most.
The Tucson J is in the vanguard of JCCs driving a growing, movement-wide commitment to inclusion and accessibility for those with physical and cognitive limitations. Among others, it is home to ACEing Autism, a tennis program for kids with autism, and Central Spark, an all-inclusive social club for individuals with and without disabilities.
Time and again during my visit, board members, supporters, and staff—Jewish and non-Jewish—shared personal reflections about how the JCC has become their home and its people are like family. All in all, a powerful tribute to Todd Rockoff, longtime CEO and a member of JCC Association's board, and its dynamic board chair, Sarah Singer.
The East Valley JCC in Chandler, a suburb of Phoenix, is home to a diverse community of more modest means. It is led by Rabbi Michael Beyo, the only Orthodox rabbi heading a North American JCC. This meticulously maintained 30,000-square-foot facility has no pool and no fitness center. In fact, it has no members. It does, however, have the only kosher kitchen in the area. Run by a pastry chef of remarkable talents, the kitchen attracts members of the community from miles around, who come out each Friday to buy challot and other baked goods for Shabbat. Likewise, its bustling early childhood education program serves a mixed community, bringing Jewish culture, values, and tradition to both Jewish and non-Jewish families. The EVJCC's ethos of outreach and service has generated a panoply of initiatives: connecting children with lone soldiers in the IDF; bringing text study to seniors; producing a host of online educational programs; promoting interfaith engagement; and ensuring Jewish chaplaincy services are available to all.
The breadth and scope of this JCC's efforts and impact belie its modest size and annual budget of only $2.5 million and reflect the herculean efforts and passion of its staff, whose full-time members number a mere six. What a powerful reminder of the impact our movement can have on communities of any size.
With such a full week, it might be easy to forget the way it began: in the aftermath of the latest terrorist assault on Jewish life, this time in Colleyville, Texas. Though the attack ended with only one fatality—that of the terrorist—and with the hostages miraculously escaping without physical injury, the trauma inflicted upon that community and Jewish communities across the continent and around the world will continue to be felt for a long time to come. American Jews have been terrorized—again, and our sense of confidence and safety have been shaken—again. A chilling reminder that the circumstances in which we live our lives here in North America have changed.
The JCC Movement is inspired by the courage of Rabbi Charlie Cytron-Walker and those who shared 10 horrific hours together with him at gunpoint last Shabbat. We are grateful to local, state, and federal law enforcement for their part in bringing an end to the crisis. We are particularly proud and appreciative of the work of Secure Communities Network (SCN), established in 2004 to evolve a security infrastructure to safeguard the Jewish community, including training programs like the one Rabbi Cytron-Walker credited with enabling him to shepherd his fellow hostages to safety.
The day after the Colleyville attack, the Jewish people celebrated Tu B'Shvat, the new year of the trees. Rabbi Lord Jonathan Sacks, z"l, reflected upon this unique holiday noting the significance of the two Hebrew verbs we use to describe our responsibilities to trees:
The first—le'ovdah—literally means "to serve it." The human being is thus both master and servant of nature. The second—leshomrah—means "to guard it." This is the verb used in later biblical legislation to describe the responsibilities of a guardian of property that belongs to someone else. This guardian must exercise vigilance while protecting, and is personally liable for losses that occur through negligence. This is perhaps the best short definition of humanity's responsibility for nature as the Bible conceives it.
We do not own nature—"The earth is the Lord's and the fullness thereof." (Tehillim 24:1) We are its stewards on behalf of God, who created and owns everything. As guardians of the earth, we are duty-bound to respect its integrity.
How fitting a metaphor for our responsibilities to the Jewish community, which we serve as stewards on behalf of God and to which we are similarly duty bound.
Shabbat shalom.
Doron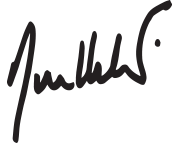 President and CEO
JCC Association of North America