By Doron Krakow 

"The task of the leader is to get his people from where they are to where they have not been."
–Henry A. Kissinger
As the COVID-19 pandemic drags on, our world—and the JCC world—continue to experience the single greatest disruption of our lifetimes. Our experience across the current crisis presents the JCC Movement with an exceptional opportunity: to play a crucial and pivotal role in defining and shaping what comes next for Jewish life in North America.
Throughout the last 20 months, JCCs and JCC Association of North America have, individually and cooperatively, seized the moment—maintaining and strengthening the largest, most dynamic platform for Jewish engagement in contemporary history while also developing and evolving partnerships and collaborations that likely would not have been feasible prior to the pandemic. Our ability to provide accessible, meaningful Jewish programming, adaptive in-person experiences, and innovative virtual events is unlike anything in the movement's century-long history and has attracted the attention of a growing number of program and philanthropic partners.
Given this backdrop, JCCs must now prepare to fulfill newfound responsibilities that extend well beyond our own buildings, individual programs, and local Jewish communities. Our leaders—lay and professional, within JCCs and JCC Association—must endeavor to make the JCC Movement the destination for Jewish engagement and identity-building for the more than 25% of U.S. Jewish adults—including 40% of Jewish adults under 30—who, according to the most recent Pew Research Center survey, "consider themselves to be Jewish ethnically, culturally or by family background…but describ[e] themselves as atheist, agnostic or 'nothing in particular' rather than as Jewish."
Laying the groundwork for this critically important endeavor and affirming a commitment to increase and enhance our partnerships and collaborations as a cornerstone of this effort form the pillars of Forward 2022: A Gathering of the Senior Leadership for the JCC Movement. To mobilize our movement's collective wisdom and set forth a path for the future of North American Jewish life, it is important that all 170 JCCs (Jewish Community Centers and Jewish Community Camps) attend from March 27-29, 2022, in Houston, Texas. Only together—by building on the increasing strength of our network, by recommitting ourselves to working together, and by dedicating ourselves to the pursuit of common purpose and its collective outcomes—can we meet this moment and take our place as the principal engine in the drive toward greater Jewish community and more vibrant Jewish life.
Invited to join us at Forward 2022 to complement and augment our conversations, as well as to engage and inspire us as we set forth a plan to shape the future of North America's Jewish community are well-known allies of the JCC Movement; new partners in programming and philanthropy; representatives of the North American and Israeli governments; and major Jewish thought leaders and innovators. Together with them, we look forward to discussing and deliberating the most important topics facing the JCC Movement, including:
Pursuit of intentional Jewish outcomes

 

Family engagement

 

Jewish early childhood education

 

Partnerships, collaboration, and philanthropy

 

Israel and our community

 

Leadership development and the JCC talent pipeline

 

JCC Governance and lay leadership development
This is an historic and remarkable moment for the JCC Movement. The promise it holds—for our JCCs and our movement, the 1.5 million community members who visit a J each week, our partners, and the greater Jewish world—can only be realized when we come together, with abiding commitment and determination, to seize the moment.  
הִנֵּה מַה טוֹב וּמַה נָּעִים
שֶׁבֶת אָחִים גַּם יַחַד

Hinei mah tov u-ma nayim
Shevet achim gam yachad 
Behold how good and how pleasant it is for people to dwell together. 
Forward 2022—REGISTER NOW!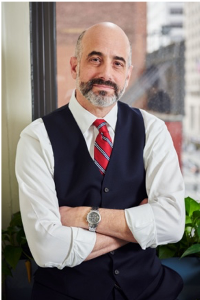 Doron Krakow is president and CEO of JCC Association of North America.