תשובה / T'Shuvah / Return
Between Rosh Hashanah and Yom Kippur we celebrate a singular Shabbat on the Jewish calendar. Shabbat T'Shuvah is dedicated to our return—our return to God, to the Torah, to our best selves. "On Rosh Hashanah," the Unetaneh Tokef prayer begins, "it is inscribed – and on Yom Kippur it is sealed." Our destiny in the New Year. Between these two holiest of days, each of us is heard. A return to our better selves, reflection and prayer, and commitment to righteousness can still tip the scales, our path in the New Year not yet sealed. Each of us is heard. All of us are heard.
What does it mean to reflect and return? How do we manifest our redemption? Though each of us must find our own way, life and circumstance seem always to provide means and moments to guide us. Many of the most important relationships in my life began during my time in Young Judaea, the Zionist Youth Movement. It was in Young Judaea that I met my wife. It was in Young Judaea that the ideas and ideals of some of my most influential teachers became imprinted on the person I aspired to become. Young Judaea's ethos of דוגמא אישית / dugmah ishit / personal example—was brought to life for me by way of role models whose conduct and character inspired a career.
T'Shuvah. During these most meaningful and reflective days, unanticipated encounters with two of these extraordinary people reminded me of just what this period is supposed to be about. In one instance, I had failed to conduct myself in a manner consistent with what I had been taught about how we treat one another in the course of our work. I had been privileged to have been in the company of my teacher. Ever the mentor she found a quiet moment to remind me of what I had failed to remember the day before. The disappointment she shared with me, a heartfelt expression of her having come to expect more, an expectation no different from that I have of myself.
A day later? A call from another of the great influences in my life. He called to tell me he loved me. To tell me he missed me. Once more I was given a chance to seek forgiveness, this time from a lonely, elderly teacher and friend to whom I had failed to pay proper attention for far too long. We talked for a while and my heart was once again full of love and admiration for a great teacher; a man who influenced a couple of generations of young Zionists like me. A giant. Yet I had been neglectful. I promised to come see him in Jerusalem when I am there in early November, for the ceremony at which my son will mark the completion of his basic training as an IDF paratrooper; an event that but for my teacher's influence, might never have come about.
Jewish tradition provides the period between Rosh Hashanah and Yom Kippur as a time of introspection. A time to return to our better selves. A time to reflect upon the person that each of us aspires to be, an ever-better version of who we are. However high the standard to which we hold ourselves, as fallible human beings we will inevitably miss the mark now and then. In every such instance, we should know better. At least that's what we've been taught. But even as the years provide us with the wisdom necessary to become more than we've been, we still need reminding from time to time. We need a chance to reflect. We need to be redeemed—to return.
And, if Rosh Hashanah and Yom Kippur are insufficient, if Shabbat T'Shuvah isn't quite adequate, then life will provide another way. Seemingly out of nowhere, a chance to learn at the knee of a great teacher. Maybe two.
גמר חתימה טובה / Gmar Hatima Tovah / May you be sealed in the Book of Life.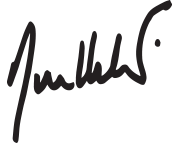 Doron Krakow