70 Faces Revisited
It's a long flight. The return from Israel to New York or to points beyond is at least 11 hours if you fly direct. That's a long time to sit. Some sleep, but others like me tend to do so fitfully more often than not. It's quiet, beyond the steady hum of the engines. And most of the time it's dark, even during the day as windows are closed and cabin lights dimmed. It's a good opportunity to catch up on email, to dive into a good book or watch that movie you had wanted to see. Above all, at least on this flight, it is a chance to reflect on 70 Faces – A Leadership Seminar in Israel, an extraordinary 10-day experience I was privileged to share with some 30 top lay and professional leaders from across the JCC Movement.
70 Faces was conceived as an important opportunity for leaders to share in experiencing aspects of Israel and Israeli society. And to do so with an eye toward broadening the nature and scope of our conceptions of how Israel engagement can increasingly become an engine for strengthening Jewish life in our communities back home. It was predicated on an interpretation of Israel that draws upon the wisdom of Pirkei Avot (Ethics of the Fathers) reflecting upon the breadth, depth and scope of the Torah. In short, the Jewish people's leading rabbinic authorities of the day concluded that the Torah is such a rich and comprehensive wellspring of wisdom that no single interpretation could possibly do it justice. In fact, they concluded that there are 70 equally worthy ways it can be interpreted, and the Jewish people should strive to encounter them all.
And so it is, we reasoned, with Israel—a complex, multi-faceted society that cannot possibly be understood by way of a single issue, challenge or perspective. In recent years, when we speak about Israel here in the diaspora, the overwhelming majority of the time we do so around only two issues: geo-politics (i.e., the conflict or the occupation) and religion (i.e., questions about pluralism, egalitarianism, and access to the Western Wall of the Temple Mount). As these issues arouse a good deal of emotion and discord, it is a challenge for community leaders to bring people together around Israel and as a byproduct, more and more leaders seem to prefer to avoid the subject altogether.
During the course of 10 days, our leaders had a remarkable series of encounters with thoughtful and insightful Israelis through whose eyes and work we came to understand the country and its people in ever more nuanced ways. Israel's elections took place on the penultimate day of our seminar so each conversation occurred against the backdrop of the hopes, fears and aspirations about what would happen beginning the day after. But it was more than politics that was on the minds of the people we encountered. So much more.
Lior Shabo and a dozen other members of the Jerusalem Parliament shared insights into their lives and work and why they, along with nearly a thousand others, are devoted to coming together, from across nearly every social, religious and professional sector to make Israel's capital a better place to live and work.
Hours before his exhibit was opened to the public, Adi Ness, perhaps Israel's most celebrated photographic artist, gave us insight into both the themes and subjects that he depicts through the faces of ordinary Israelis.
In the picturesque hills of Moshav Givat Yaarim, we met Yefet Ozery, one of the last Jewish children born in Yemen before Operation Magic Carpet brought them to the newly independent Jewish state in 1950. As a 14-year-old he began a three-year correspondence with David Ben-Gurion about life, ambition and his future in Israel.
Eliezer Papo, the chief rabbi of Sarajevo and member of the faculty of Ben-Gurion University, shared diverse perspectives about the Jewish religious history of the Old City of Jerusalem.
The pride of purpose of Supreme Court Justices Yael Willner and Daphne Barak-Erez, underscored the significance of Israel's independent judiciary.
Israel's legal system places judicial responsibility for select matters of family law in the hands of religious courts: Jewish, Christian, Muslim, Druze, etc. Qadi Iyad Zakhalka, a judge in Israel's Shariah high court gave us newfound understanding about the application of religious law in his community.
Rabbi Menachem Bombach has introduced secular studies to his Torah Academy for children from mainstream Hasidic homes, strengthening their abilities to provide for their families as adults, even as they remain firmly rooted in religious tradition.
Dr. Paula Kabalo, one of the foremost authorities on Israel's founding father, David Ben-Gurion, guided us through his desert home in Sde Boker, in the heart of the Negev Desert, and took us to his gravesite overlooking the biblical Zin Wilderness, where she read to us from his emotional diary entry of May 14, 1948, the day he proclaimed Israel's independence.
In Hura, former mayor, Dr. Mohammed Alnabari, who holds a doctorate in organic chemistry, shared insights into the work he spearheaded as mayor that markedly improved the fortunes of his municipality, in part through strengthened engagement with several government ministries. Hura is home to two of the 18 Bedouin tribes making their homes across the Negev, and we met Mohammed at the visitors center at Project Wadi Atir, a model economic and environmental sustainability initiative on the city's outskirts.
A hillside at the southern edge of Sderot, a city roughly three miles from the border with Gaza, was the setting for a lesson in local geography and security by Miri Eisen, a retired colonel, decorated intelligence officer and former spokesperson for both the IDF and the Office of the Prime Minister. The roughly 20,000 people living in this lower-middle-class town receive not more than 15 seconds' warning of incoming terrorist rocket fire and more than 10,000 such rockets have targeted Sderot since Israel's disengagement from Gaza in the summer of 2005.
Meital, Jason, Evan, Ilan and Aaron, lone soldiers who left the safety and comfort of lives in America to put themselves in harm's way to protect and defend the Jewish State, talked about why they came and about some of their hopes and dreams.
Eurovision 2019 semi-finalists, The Shalva Band, are the pride of Shalva, the Israel Association for the Care and Inclusion of Persons with Disabilities, which is dedicated to providing transformative care for individuals with disabilities from every corner of Israeli society, irrespective of financial capacity. Shalva empowers their families by promoting social inclusion and was inspired by one family's determination to find a loving place for a severely disabled child in the face of society's rejection and has become a worldwide flagship for inclusion and accessibility. Rabbi Kalman Samuels, who came to Israel from Vancouver, Canada in the 1970s has literally brought the dream that is Shalva to life.
Major General (Ret.) Doron Almog, a hero of the 1976 hostage rescue at Entebbe, and a past head of the IDF's Southern Command, was similarly inspired by the challenges faced by his son Eran z'l, who though he never spoke a word throughout his altogether too-short lifespan of 23 years, became his father's greatest teacher. Aleh Negev believes that all individuals, regardless of the severity of their physical or intellectual disabilities, have the right to benefit from the best available care in order to reach their full potential and is dedicated to offering them a comprehensive solution—including residential, medical, rehabilitative, educational and social services—in a dignified, warm and loving atmosphere that recognizes each one as an individual with the same feelings and needs shared by all human beings.
So, what does all this have to do with 70 Faces? While 70 Faces certainly refers to elements of Israeli society, perhaps it has more to do with Israelis themselves. Israel is a complicated place. I suppose all countries are. There is also plenty of room for improvement, and after only 71 years, that is to be expected. We should be uncomfortable with the ongoing conflict, the absence of peaceful coexistence in the region and the legitimate grievances of those who are dispossessed, downtrodden or denied opportunity. We can and should voice our hopes for something more. For something better. But we should also acknowledge that from the safety of our lives in North America, there is much we can't adequately understand about the challenges faced by those who are there.
As the first generations in nearly 2,000 years to have been born into a world that includes a sovereign Jewish State, a safe haven for a beleaguered people who for a hundred preceding generations would have given anything just to taste of the Jewish world in which we live, perhaps we should resist the impulse to look for something to criticize, and instead start looking for something to love. It isn't hard to find. Just ask Meital, Adi, Kalman or Miri. Talk to Daphne, Lior or Yefet. Pay a visit to Paula, Mohammed, Yotam or Inbal. They are some of the 70 faces we got to see. Israel is more than politics and religion. So much more.
Shavua tov—שבוע טוב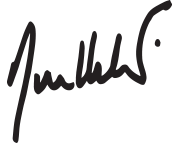 Doron Krakow