Not Again…
On Monday evening I was at JCC Rockland, NY. The J played host to a community rally in response to the horrific Anti-Semitic attack last weekend in Monsey, NY where Jews celebrating Hanukkah in a private home were attacked by a man wielding a machete. Five were injured and one of the victims, Josef Neumann—a father of seven, is still fighting for his life. This attack was the most violent of roughly a dozen Anti-Semitic incidents to take place in the New York metropolitan area during the week of Hanukkah and came only two weeks after a murderous Anti-Semitic attack in Jersey City, NJ claimed four innocent lives, lives lost at the hands of killers who hate Jews. It wasn't supposed to be like this. Not here.
We were broad-sided by the murderous rampage in Pittsburgh, PA on October 27, 2018, but that had to have been an outlier; a crazed white supremacist. We cried out in pain and outrage. We threw our arms around friends, colleagues, and families from the Squirrel Hill community. We gathered together for memorial vigils and took comfort in the support that came from across the country and around the world. Interfaith. Civic. Grassroots. We recoiled. We girded ourselves. And we recommitted our communities and our institutions to heightened security, greater consciousness, and increased vigilance. Then, on April 27, 2019, on Passover, came the attack on a synagogue in Poway, CA.
Something has changed. The perpetrators appear to be coming from multiple quarters of our society. A climate more openly hostile to Israel and the Jewish community has taken root on university campuses and at elite private schools. It has been sanctioned, it seems, in segments of both the progressive left and the extreme right, not overtly per se, but by way of the passive acceptance of public statements that would have been considered anathema in years past. Taken together, these changes create an environment in which incidents of increasingly overt Anti-Semitism, often violent Anti-Semitism, have emerged from the dark places where they had been hibernating.
The recent surge in attacks on Jews has not been met with silence. Public outrage expressed by religious, civic, and political leaders from across the community has focused greater attention on the issue. Monday evening's rally in Rockland was one of many such events, meetings, and gatherings held this week. A major solidarity march and rally organized by UJA-Federation of New York and the New York Jewish Community Relations Council is planned for Sunday and has received the ringing endorsement of a New York Times editorial which appeared yesterday, and which called on all New Yorkers to join the march.
Following the recent elections in the UK in which the outwardly Anti-Semitic Labor Party leader was soundly defeated by Boris Johnson and his Conservative Party, Prime Minister Johnson delivered a powerful message to the Jewish community and to the people of the United Kingdom. "Britain would not be Britain without its Jewish community, and we will stand with you and celebrate with you—at Hanukah and all year round." Anti-Semitism can be driven back into the shadows. But doing so requires action. And we are all called upon to take part.
Anti-Semitism is insidious. Throughout our history it has always been there, lurking just out of sight, awaiting an opportunity to rear its ugly head. We are privileged to live in an open, democratic society; a society in which freedom, tolerance, and liberty are ideals that form the foundation of a great nation. In the face of a threat to those ideals, we must exercise our right to be heard. We must join hands with our fellow Americans from across the continent to decry these attacks. We must take the victims and their families into our communities' warm embrace. And we must pull together within and across the Jewish community to strengthen the fabric of Jewish life and Jewish peoplehood. We are and have been a proud contributor to our communities and to our country. And we are at our best when we stand together.
After the Holocaust, "Never Again!" became a call to arms demonstrating our people's absolute determination that we would never again find ourselves at the mercy of tyrants bent on our destruction. Today, in the face of our deep concerns over the rise of Anti-Semitism in the United States, "not again" must not become the murmured reaction to seemingly daily attacks on Jews, but a bold declaration that such acts cannot and will not be tolerated—not by Jews, not by the United States of America, not by decent people anywhere.
Stand tall. Stand proud. And stand together.
Shabbat Shalom שַׁבָּת שָׁלוֹם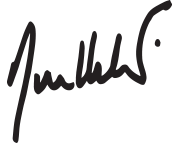 Doron Krakow