By Leah Garber
In Modi'in, one of our neighborhood's kindergartens has been transformed into a local coronavirus vaccination center, operating seven days a week, vaccinating anyone 16 or older, and contributing to the town's reputation as a leader in this country's vaccination efforts. Hugging my mother after a year never felt so good, so fulfilling, so comforting. Yes, the light at the end of this long, dark tunnel finally is visible, but still far away and blurry. Nonetheless, a hug these days sows much hope and is valued more than ever before.
Exactly 12 months ago, in mid-February of 2020, the first Israeli with COVID-19 was diagnosed, presumed to have been infected in Italy while traveling with friends. This first COVID-19 case was reported widely, detailing the traveler's whereabouts so people could determine if they may have been exposed. Funny things happen in a small country, and back then, the news channels listed in detail the places COVID-19 cases were located. As a result, we closely followed our countrymen's routes and routines for shopping, dog-walking, and visiting with friends, dentists, and psychologists. Satirical television shows added a dose of humor to these reports, easing the stress in the pandemic's early days.
Fast forward one year.
Our country of 8.8 million people now includes more than 700,000 Israelis—8.5% of the population—who have been diagnosed with COVID-19, topping the list of infection rates for countries with fewer than 10 million residents—nothing about which to be proud. Even after a third lockdown, close to 6.5% of all tests are positive, and the number of young people testing positive is increasing daily. Between 50 and 100 people die each day—the highest death rate since the start of the crisis 12 months ago. So, although we remain hopeful, we have a long way to go before we fully overcome this pandemic.
The good news is that 35% of Israelis have had their second vaccine dose, including 83% of those over age 60. These figures put Israel in the number one spot in the world in terms of vaccinating its population. What's more, thanks to its unique and efficient health system, Israel has earned the right to function as the largest coronavirus laboratory. Our health system keeps full and permanent medical records for every citizen from birth, enabling the country to track vaccination results and side effects in every patient database. Israel has offered to share this clinical data from the vaccine rollout as needed. Thus far, based on results reported here, Pfizer's coronavirus vaccine is showing an efficacy rate very similar to the clinical trial results of 95%. Our ability to provide an instant snapshot of the vaccine's effectiveness in a large and varied population is among the largest clinical trials ever, and we are proud that our medical system makes it possible.
At the same time, we are challenged to advocate for the vaccine's safety and short of that, explain why it's safer to get the vaccine than risk contracting COVID-19 and potentially suffering its serious and sometimes long-term consequences. To resume our pre-pandemic routine requires 90% of the population here in Israel and worldwide to be vaccinated—an ambitious, almost imaginary goal. And yet, the Israeli army is close to achieving it—in concert with severe regulations and harsh limitations on spending time with family during weekend vacations. Within two weeks, at least 85% of IDF soldiers will be fully vaccinated, which means the army may achieve herd immunity.
As with other COVID-19 social initiatives and altruism, here, too, a growing number of volunteers are driving lonely elders and homebound patients for their vaccines, using ambulances and other suitable vehicles, and accompanied by medical personnel when necessary. But the right to vaccination isn't reserved for Israeli citizens alone: All long-term, gap year participants and semester abroad students have been vaccinated, and foreign workers and refuge seekers who wish to get the vaccine can do so.
Along with pride and patriotism, the pandemic also reveals hidden flaws. These social ills and ideological gaps wound Israeli society, marking it with ugly scars that will not soon heal. Among them are coronavirus deniers who violate directives and incite against vaccines and sections of the ultra-Orthodox community who violate restrictions, open schools, continually hold mass weddings and funerals, and vehemently oppose police enforcement. Above all, this country's tainted politics is leading to a fourth election during one of the most challenging periods Israelis have known. Politics aside, we're in a tight race between the pandemic, with its multiplying variants, and our ability to find on-the-go solutions with no time to spare.
At the end of this week, the Jewish world will celebrate Purim, a holiday that more than any other spotlights our resilience, determination, and ability to overcome obstacles. Last year's celebration came on the brink of social distancing and limitations to being out and about in the world. For me, Purim marks a year since attending a performance in Tel Aviv followed by a street festival along Rothschild Boulevard.
We didn't know then what we know now, and last year's Purim celebrations were what we today know to be "super-spreader events," leading to funerals in Brooklyn, Morocco, Israel, and other Jewish communities around the world. The notion that Purim's festivities led to communal mourning forced Israel into its first full lockdown.
I'm not sure how we will celebrate Purim this year, nor what our Pesach seder table will look like, but alongside spring's blossoms, hope is in the air.
It is my wish that warm spring winds and wandering birds will carry my prayers that you, too, will start to see a sparkling light at the end of the long, dark tunnel and shortly, we will all rejoice together with generous hugs for one another. After all, a hug is so much more than just a hug.
Happy Purim! | Chag Purim Sameach! | חג פורים שמח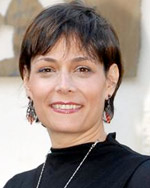 Leah Garber is a vice president of JCC Association of North America and director of its Center for Israel Engagement in Jerusalem.