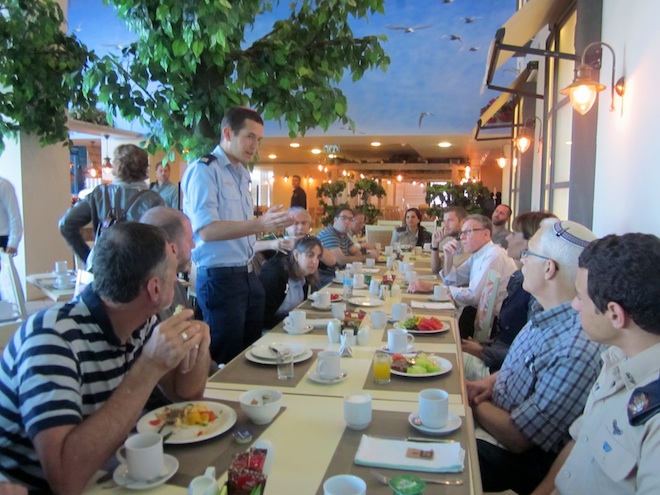 Two weeks ago a group of 15 leaders from our JCC Movement embarked on a special journey in Israel to express solidarity with the people of Israel in the aftermath of the war in Gaza this summer.
Our journey took us through Israel's emotionally scarred south. We met unbelievable people who live their Zionism daily. We enjoyed the beauty of Israel's south, the same region that just a few months ago soaked up the cries of Israelis suffering and mourning their losses.
We visit Kibbutz Nahal Oz, once the home of the Tregerman family, until a mortar shell killed their four-year-old Daniel on Aug. 22. In the wake of Daniel's death, all the parents of the kibbutz who had children that age left. The trauma was too great. Their absence is felt keenly, a hole in the fabric of kibbutz life that well serve as a human memorial to Daniel. We witnessed two siren drills, where a group of children playing soccer immediately had to run to the nearby shelter (in real life they will have only 15 seconds). At the shelter the kids are trained to sing very loudly, in order to avoid hearing the bombs and sounds of war. Our host, Dian, a school teacher moved to Israel from Argentina because of rising anti-Semitism her family faced living in South America. Dian flee from her home once, and swears she will never repeat that again. She has lived through 13 years of constant terror from Gaza missiles. She lived through this past war and says that she isn't going anywhere.
Just live in peace! It's simple. Let's be one piece, one heart, one love forever.
Over the next few days, our journey took us through despair and hope, suffering and recovering, and most of all, great optimism and strength.
We visited the Bedouin village of Segev Shalom, located a few miles from Beer Sheva, and met a group of Jewish and Muslim teens that as part of the Gary and Jerri-Ann Jacobs International Teen Leadership Institute (JITLI) learned to see the other side and recognize the region's challenging complexities. Perhaps as importantly, they learned to acknowledge the beauty of friendships beyond political disputes and religious beliefs. The JITLI program proves that through education and leadership development we can change the world — or at least help it become a better place.
At one of our dinners, we invited a group of American lone soldiers to dine with us. Lone soldiers are those who choose to move to Israel on their own, join the army and serve the country as any other Israeli. Having informal conversations with these amazing young men and women offered a new appreciation for the power of giving, of waiving comfort and safety net and all that's familiar for a bigger cause, for the Jewish people.
We visited wounded soldiers who are still recovering; we met Israeli pilots; we learned about Israel's political challenges and discussed the media battle and new creative advocacy approaches. We were filled with pride when visiting Israel's aerospace Industries and in learning about Israel's advanced technologies. We met directors of Israeli southern community centers and learned about community resilience. And we thanked God for our healthy children, when visiting Israel's amazing rehabilitative village of ALEH Negev-Nahalat Eran, where more than 100 Jews and Arabs, young Israelis who live together with an outstanding staff, as they attempt to overcome disabilities.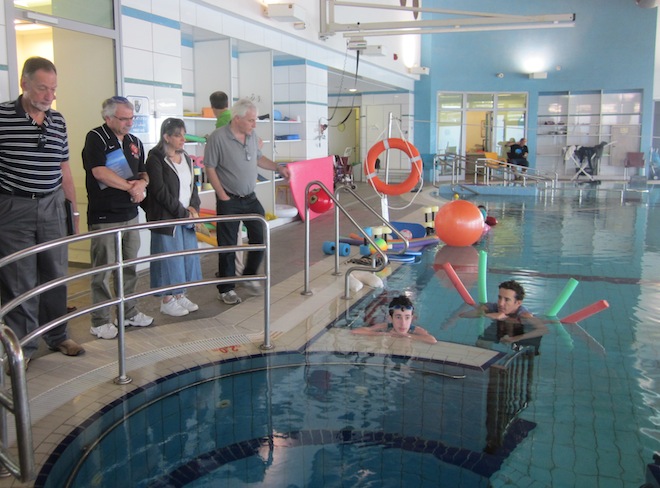 We did so much in just four days, but it was on the last day that many of us burst into tears, when meeting Bat Galim Shaer, mother of Gil-Ad Shaer, one of the three boys who were kidnapped and murdered in June. Bat Galim met us at One Family, an organization providing support and comfort to victims of terror, Jews and non-Jews. Bat Galim stood there with a great smile on her face, talked about how she copes with her sorrow, the impact of the Israeli hug and how it felt as if the entire Jewish world embraced them during that very difficult time and beyond. While listening to Bat Galim a terrorist plowed his vehicle into a crowd of people at a light rail station along the seam-line between East and West Jerusalem, killing a border police officer and a young boy, and injuring 13 others. It was almost surreal to leave the One Family building knowing new families will now join this forum.
When visiting the JITLI teens at Segev Shalom, one of the programs' graduates, a 17-year-old Bedouin, Gasan Alaimi, wrote: "In the beginning I was upset with what happened between Gaza and Israel but I saw that your people don't want the war like we don't… I just want a little love from each other…. And that's how peace will come to the whole world. Just live in peace! It's simple. Let's be one piece, one heart, one love forever."
Today we mark 70 years since the execution of Hannah Senesh, one of 37 Jews from Mandatory Palestine whom the British Army parachuted into Yugoslavia during World War II to assist in the rescue of Hungarian Jews about to be deported to Auschwitz. Hannah was arrested at the Hungarian border, then imprisoned and tortured. But she refused to reveal details of her mission. She was eventually tried and executed by firing squad.
Hannah Senesh is a symbol of determination, heroism and faith. In our modern Jewish chronicles, Senesh symbolizes all that is worth living for — and everything that is worth praying for.
Seventy years later, Mandatory Palestine is now the sovereign state of Israel; young Jews report to their Israeli commanders and not to the British Army and unfortunately many of those Hungarian Jews Senesh was sent to save didn't survive the Holocaust.
Seventy years later, in our amazing Jewish homeland, our right to our land is constantly questioned and our existence is challenged. Since June 12 when Gil-Ad, Eyal and Naftali were kidnapped and murdered, the entire country is in turmoil. We experienced 50 days of fighting in Gaza and now a few weeks of escalating security threats. Some describe it as a "mini" intifada (uprising) or a terror wave. At multiple events in recent weeks six innocent civilians were killed including a three-month-old baby. In addition we are experiencing multiple stone-throwing incidents and demonstrations across the country.
Two years before she was executed, Hannah Senesh wrote this beautiful prayer:
My God, My God
May these things never end:
The sand and the sea
The rustle of the water
The lightning in the sky
Man's prayer.
We know from past experience that these days of rising terror will pass, winter rain will clean the air and offer comfort and consolation to the people of Israel.
Shabbat shalom
Leah Garber
Vice President, JCC Israel Center
[email protected]