Late Thursday night, in the midst of a hot, steamy and extremely challenging summer for Israel, the country's prime minister, Binyamin Netanyahu, broadcast a statement to the entire country. For the first time in Israel's history, a peace agreement will be formed between it and the United Arab Emirates, a federated monarchy of seven emirates that is the strongest, most advanced, wealthy, and innovative Arab country whose influence extends well beyond its small population.
Following the 1979 peace agreement with Egypt and the 1994 peace agreement with Jordan, this newest agreement will be Israel's third peace treaty with an Arab country; it will be the first, however, that is not conditioned on territorial compromises or land in return for peace.
The treaty between Israel and the Emirates will be based on mutual interests and appreciation of one another's knowledge, achievements, and regional significance and is expected to encompass a full and warm relationship that includes open borders, diplomatic relationships, tourism, academic, scientific and financial collaborations, as well as and above all else, mutual recognition.
Netanyahu's statement—during a moment when Israel is going through a perfect storm full of medical, economic, political, social, and security crises—was received like a wave of fresh air, a bright light after many dark days, a dream come true.
After months of messy political allegations, three elections, growing divides and despair, tonight, for the first time in a long time, even Netanyahu's tired opposition praised this enormous achievement, and for a moment, maybe just one moment, set aside old disputes to indulge, for a change in a piece of good news for a change. In fact, this is great news—for Israel and for the Jewish world.
This evening, Netanyahu promised that other Arab countries will follow suit and that soon the world will see a very different, more settled Middle East. To that and to all of this, I say, "Amen!"
As-salamu alaykum – שלום עליכם – Peace on us all.
Shabbat shalom,
Leah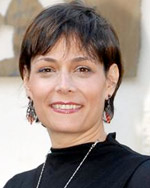 Leah Garber is a vice president of JCC Association of North America and director of its Center for Israel Engagement in Jerusalem.
Stay connected to the JCC Movement. Sign up below for email updates, including our new quarterly newsletter, and visit us on Facebook, Instagram, and Twitter.