Mark S. Young, director of JResponse®, a signature program of JCC Association of North America, is the guest author of today's Shabbat Shalom message.
Building Resilience in the Big Easy
New Orleans, "the Big Easy," is also known as a city of resilience since Hurricane Katrina came ashore in 2005. The physical destruction and emotional damage from the storm and its aftermath are still potent, so when Hurricane Ida hit this past summer, it was simultaneously "no big deal" and "a major gut-punch," according to Michele Huck, membership director at the New Orleans JCC. Throughout the region, Ida's wrath knocked out power for weeks, damaged homes and property, and triggered such forceful wind and flooding that many homeowners are still haggling with their insurance companies over repairs.
But, thankfully, Ida wasn't Katrina. The rebuilt levies held, and life quickly returned to its routines. New Orleanians took the latest hurricane in stride because they were ready and they are resilient.
Nonetheless, after 16 years of rebuilding and repairing, residents in the Crescent City had to pause, yet again, following Ida, to rebuild and repair—this time amidst the COVID-19 pandemic, an ongoing marathon without a clear or defined finish line. What's more, New Orleans was among the first cities to experience a surge of COVID-19 cases and significant losses in the spring of 2020, and today, a surge caused by the Delta variant continues. Add in the labor shortage, inflation, rising antisemitism, and painful traumatic memories triggered by the sights and sounds following the latest storm—immense property damage, flooding, and weeks of uncollected trash at the curb—and it's easy to see that NOLA's got more than its share of stressors and challenges.
As the director of JResponse®, a signature program of JCC Association of North America that trains JCC professionals to prepare for and support JCC communities following natural and man-made disasters, I've been communicating frequently with Leslie Fischman, CEO of the New Orleans JCC, since before Ida struck. Although the storm closed both JCC campuses for two weeks, they quickly sprang back to life. However, the combination of Ida and the Delta surge, according to Fischman, "has left the staff exhausted, stressed, and constantly tense," prompting her to invite me to New Orleans to lead a resilience workshop for her staff, which I did this week.
As I walked down St. Charles Avenue with Assistant Executive Director Rachel Zoller, she shared how much she and her team love the work they do and how they strive, always, to do it with excellence. She also told me of their struggles, including the daily potential that they or someone in their circle will be exposed to COVID-19 and the constant concern about the next hurricane.
I also met with Gary Brandt, director of youth and family engagement, who spoke proudly about New Orleanians' resilience, noting, though, they don't always take time to refine or nurture that skill nor to practice self-care. Likewise, members of the early childhood leadership team told me that teachers frequently miss work due to COVID-19, other illnesses, or just plain exhaustion, leaving the rest of the team to piece together the staffing puzzle to ensure proper classroom coverage. Initially, they thought this fall would be a great return to normal, but so far it has been anything but that.
In our workshop, we used the J.C.C. Model of Resilience, which focuses in three areas:
Just Breathe
Communicate in Community
Constructive Habits
Thirty staff members practiced these and other resilience strategies and learned to check in with themselves and each other. We also discussed the importance of constructive habits and committing to nurture our own health by taking actions we often ignore or forget to prioritize during traumatic or stressful times: getting enough sleep, hydrating, exercising, and expressing gratitude. I impressed upon participants that resilience requires constant nurturing, and we must make regular space and time to create positivity in our lives so we can absorb the adversity when it arrives.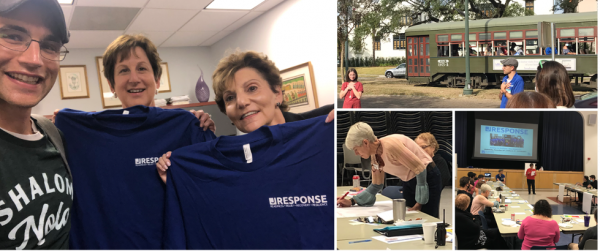 We must all prioritize taking care of ourselves and each other, which is why our JResponse® training is named Hineni | "Here I am" or "To step up." To date, we have trained 150 JResponders from 75 JCCs in the areas of disaster preparation, self-care, and psychological first aid, and each of them now contributes to their community's individual and collective readiness, relief, recovery, and resilience. Currently, JCC professionals from almost half of all JCCs have received JResponse® training, either online or in person, and with time, we hope to train individuals in every JCC to bring these critical skills to their communities.
As Maimonides wisely advises in his highest level of charitable giving, we must (as we are doing) invest in our people, giving them tools, resources, and experiences so they can help themselves. We are harnessing the guidance of our JResponse® partner, IsraAID, along with the National Council for Mental Wellbeing, which advises us to practice psychological first aid with each other—listening actively and without judgment, providing reassurance and information, and encouraging colleagues to seek further help when they need it. We also refrain from saying: "I know how you feel," because we don't. Rather, we say: "I am here for you. What might you need?"
Throughout my stay in "The Big Easy," I was tremendously impressed by participants' dedication and pride in their work to serve their community with humility and under difficult circumstances, even as they navigate taking care of themselves in the process. It's a big task, and it's anything but easy. The team at the New Orleans JCC exemplifies the best of our movement—and they are not alone. Despite ongoing struggles in the face of constant challenge and uncertainty, I observed this same pride and dedication in JCC professionals during recent visits in Cincinnati, Ohio; Durham, North Carolina; and Harrisburg, Pennsylvania. Indeed, our JCC professionals constantly inspire me and my colleagues at JCC Association and throughout the JCC Movement.
May our entire workforce and those we serve across the continent welcome this Shabbat with peace and a commitment to rest and recharge so we may begin again next week with strength to absorb the difficulties, adapt to adversity, and demonstrate resilience in the face of challenge.
Ken y'he ratzon | May it be so, and may these words strengthen us all.
Shabbat shalom.
Mark S. Young
Director of JResponse®