By Leah Garber
Gam v'Gam—גם וגם | We can be both.
Some formative meetings stay with us for life—influencing, strengthening, and charging us. Such was the meeting the group of JCC execs, who were here as part of a solidarity delegation, had with Rabbi Doron Perez, parent of Daniel Perez who is presumed taken hostage. Rabbi Perez, originally from South Africa, serves as the executive chairman of the Mizrachi World Movement. Our JCC delegation came to strengthen, to show solidarity with Israel and Israelis, to let them know we represent millions of Jews in North America who are behind them and with them. Yet it was our delegation that left strengthened.
Daniel Perez fought fiercely and bravely against Hamas terrorists in Kibbutz Nahal Oz on October 7th. Daniel went missing in action, and his tankmates were all killed or abducted. At first, his parents thought he was missing, but a few weeks later, the army notified them that most likely Daniel had been kidnapped and was among the 240 abductees in Gaza.
On that first day of fighting, on October 7th, not far from Daniel's position, his older brother Yonatan was fighting, too. Yonatan, a paratrooper officer, was injured during the battles and rushed to a hospital. Despite his injuries, he asked to return to the front. And so, he did, not allowing his body to recover fully.
Yonatan and his fiancée, Galya, planned to get married this fall. Their wedding was initially scheduled for late October.
With Daniel presumed taken hostage, the family debated whether to hold the wedding in the middle of a war, whether it was appropriate or even possible to rejoice with one son, knowing the other is held captive by bloodthirsty murderers. And yet, how could they ask Yonatan and Galya to postpone their wedding?
Rabbi Perez shared his worldview and, with that, he offered me a gift I will cherish forever—the gift of גם וגם. We can be and do things that seem contradictory. This is what makes us human.
In the past, I have already mentioned Rabbi Menachem Mendel of Kotzek's saying, "There is nothing more whole than a broken heart." Well, Rabbi Perez proved this to be so true. While the family's heart was divided between nerve-wracking concern for Daniel's well-being, consumed with anxieties, nightmares, and sleepless nights, they gathered as a family to celebrate Yonatan's marriage. Half of their aching hearts were with Daniel in the dark tunnels of Gaza, and the other half, the happier half, with Yonatan and his bride, Galya, on their happy day. Tears of joy mingled with the saltiness of tears of pain. Their gratitude to God for Yonatan's happiness was mixed with a plea for Daniel's immediate safe return. Impossible emotions, weaving such an unimaginable yet so human tapestry of despair, joy, pain, and appreciation. Indeed, there is nothing more whole than a broken heart.
גם וגם–both can exist in one body.
In great pain and with tearful eyes, when Rabbi Perez described the emotional experience under the wedding chuppah, canopy, the audience cried together for Daniel while embracing Yonatan and Galya, begging their hearts to be גם וגם. To make space for both contradicting emotions.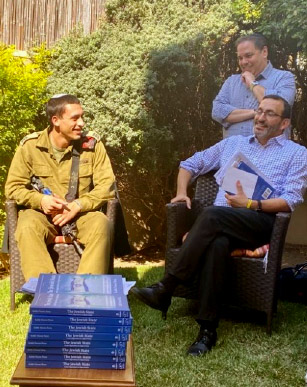 Rabbi Perez shared with us the efforts to free the abductees, and with incredible honesty, out of deep grief, he stated that "as a parent, we would expect the State to do everything possible to return our children—it is the basic responsibility of a country to protect its citizens. At the same time, we are part of a people and a war effort beyond our individual circumstances—to remove, totally, the threat of terror from our land. Both ought to be relentlessly pursued at the same time. גם וג, both notions must be taken into consideration." Rabbi Perez reminded us that in 2011, Israel released over 1000 terrorists in exchange for the release of Gilad Shalit, who had been in the hands of Hamas for over five years. Some of those terrorists who were released are today's leaders of Hamas.
Rabbi Perez's גם וגם"  | both can be" is the story of this war. Israel is fighting Hamas and its many supporters from among the Gazans with great force. It is the duty of the state and the duty of the army to destroy the cruelest enemy known to mankind since the Nazis. An enemy that threatens the Western world no less than Israel.
At the same time, while the fighting continues, Israeli soldiers have brought medical equipment into the hospitals in Gaza: incubators, beds, baby equipment, food, and medicine. Israeli doctors crossed the border, at great personal risk, to help the medical teams in Gaza.
While Israel continues to fight, it also ensures the safety of hundreds of trucks with humanitarian aid entering Gaza daily. Israel eliminates terrorists and destroys tunnels while enabling citizens to escape through a secure escape corridor. Both can be. Because alongside fighting against an evil enemy, we have not lost our humanity and compassion. How different we are from our enemies, thanks to the fact that we live with גם וגם.
This past weekend, the escalating war took a heavy toll. Many more families are now bereaved and will accompany their loved ones to rest. New orphans are now left behind to grieve. The entire nation is in mourning, looking with fear to Israel's north, where, despite the stormy weather, the fighting is heating up.
Winter has come, and the skies are finally crying with us. Rains of pain, of sorrow, and of blessing, as well.
Winter brings comfort to the cracked fields, hope for the crops trampled by the enemy, and the rains clean the blood from kibbutzim trails, while purifying the smokey air. But the rains also make it difficult for our soldiers. It's hard to sleep at night knowing that our boys are in the mud, knowing that the abductees are all cold, wet, and wearing the same summer clothes they wore 45 days ago.
So, the rain, too, can be both. גם וגם
Rabbi Perez radiates power. He is full of humor. His eyes are warm, incredibly kind, and so wise. And at the same time, his broken heart cries out from within. His eyes immediately glaze over when he mentions Daniel. All our eyes did.
On that Friday afternoon, when I lit Shabbat candles, I prayed for the safe return of Daniel, son of Sharon, and the return of all the abductees. I drew strength from the words of Rabbi Perez and allowed my fractured heart to make room for happier pieces. I allowed myself to rejoice with my family, with our sons-in-law who were back home from Gaza for Shabbat. After all, we have so much to be thankful for, and if Rabbi Perez can, so must we.
May the winter winds blowing outside bring Daniel and all the abductees carried safely home on their wings, and may our sons, all our soldiers return home safely so that we can enjoy the rains of blessing with a complete, rejoicing heart, because although we can be גם וגם, and know we can hold contradicting emotions, every now and then, we would like our hearts to be whole, and full of joy.
Together, united, we will overcome.
Leah Garber is a senior vice president of JCC Association of North America and director of its Center for Israel Engagement in Jerusalem.